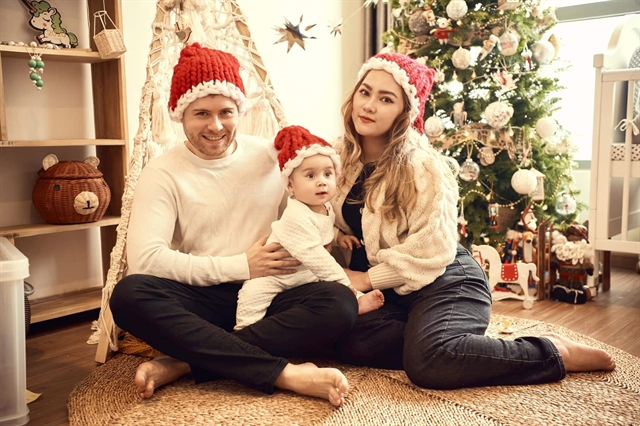 FAMILY TIME: Ezra Luckcock, his wife Huyền Thương and their son Idris getting into the Christmas spirit. — Photo courtesy of Hanceo Studio
Sean Nolan
Christmas is a holiday celebrated by people all over the world, and the expat community in Việt Nam is no exception. However, while most people spend the holiday with friends and family, for those in Việt Nam, that isn't an option this year.
Lauren Cole, a 26 year-old teacher from the UK living in Hà Nội, said that the rising COVID-19 cases in the capital are her biggest concern about the upcoming Christmas period.
"My biggest worry is COVID-19. This year has been difficult for some friends who have not worked for a long time. A lot of people have less money to be able to do the same as normal – it's been a weird time to try and navigate!"
She appreciates that her own concerns may be more trivial, though that doesn't make them any easier.
"A big tradition of my family is going out for a Christmas Eve drink. With bars and restaurant's closing that might not be possible this year. Even more restrictions might change our New Year and holiday plans too. We are planning on flying to Phú Quốc on Boxing Day, but we are not sure if we will be able to."
Lauren Thomson, a teacher from South Africa, told Việt Nam News that the strangest thing about Christmas in Việt Nam is the weather.
"Christmas in South Africa is during our summer – it's strange to be having a Christmas with temperatures this low!"
ON THE HUNT: Nick Blaszczyszyn keeps his eyes peeled for the best Yorkshire Puddings in town. — VNS Photo Sean Nolan
Despite being away from family, she is making sure that she still makes the most of the holiday spirit this year.
"I will be sharing the holidays with friends who have become my second family, and enjoying the warm and friendly atmosphere of the holiday spirit! I love experiencing the traditions of people from different countries from all around the world at this special time of year."
For Teegan Page, a 28-year-old South African, this will be her fifth Christmas in Việt Nam. She says that the hardest thing about being away from home for so many Christmas' in a row is not being able to spend the holidays with her family. However, "spending some time on the beach in the sun," does make up for it somewhat.
"I love that, usually, you can choose if you want a cold Christmas in the north of Việt Nam or a hot Christmas in the south."
She thinks that the support of so many local businesses helps build the holiday spirit in the community.
"There are also many different Christmas events and markets held in Tây Hồ that offer a variety of different things from different cultures."
GIVE A GIFT: Lauren Thomson will be spending Christmas with her second family in Việt Nam. — VNS Photo Sean Nolan
Nick Blaszczyszyn, an expat from the UK, is gearing up for his sixth Christmas in Việt Nam. While he agrees that being away from family is hard, he appreciates the extra effort that the expat community in Việt Nam goes to make the holiday as special as they can.
"The fact that all the expats in the community make even more of a conscious effort than usual to feel festive helps. Living in a Việt Nam takes us out of our comfort zone and makes us inherently aware that we're far from home. It can therefore be quite difficult to feel festive some years. The lack of home comforts and familiarity can exacerbate this.
"Saying that, select bars and restaurants do such a great job at marketing and organising Christmas dinners, much to the enjoyment of 'the Tays' – this really surprised me at first given that Christmas isn't widely celebrated by Vietnamese people. It feels like we're brought together because we're all overseas, away from family, and therefore we tend to rely on each other more than ever."
QUIET CHRISTMAS: The main worry among expats this Christmas is the unpredictable COVID-19 situation. — VNS Photo Sean Nolan
When asked what he finds most surprising about Christmas in Việt Nam, he betrayed his roots in the north of England.
"Yorkshire puddings! I never thought I'd eat one again when I initially left the UK. It's great to see so many restaurants organising roasts, even if they're only 75 per cent as good as my mam's!"
For Ezra Luckcock, a 32-year-old from the UK, his family is in Việt Nam – he met his wife here and they have since had a son. He plans on spending his sixth Christmas in Việt Nam at home with his young family.
Ezra believes the biggest difference between celebrating at home or in Việt Nam is the length of the celebration.
"In the UK, a roast dinner and plenty of booze is just one part of a guaranteed week of festivities."
Despite the fact that the weather is "not as cold as I'd like," he hasn't given up hope of ringing in the changes in Việt Nam, starting at home.
"My son is getting older now, so perhaps he will begin to understand and get excited about a thoroughly western tradition!"
Living away from home can be hard at the best of times, even more so over Christmas. However, it is clear is that the unity and Christmas spirit shown by the expat community can make Christmas that little bit more special for everyone. VNS
CHRISTMAS JUMPER: Teegan Page plans to swap her sweater for a swimsuit this Christmas. — VNS Photo Sean Nolan