The society is in high dudgeon over reports about child abuse leading to deaths, and netizens have 'danced on their computer keyboards' and called on the courts to impose heavy penalties on people abusing children. But support has been modest.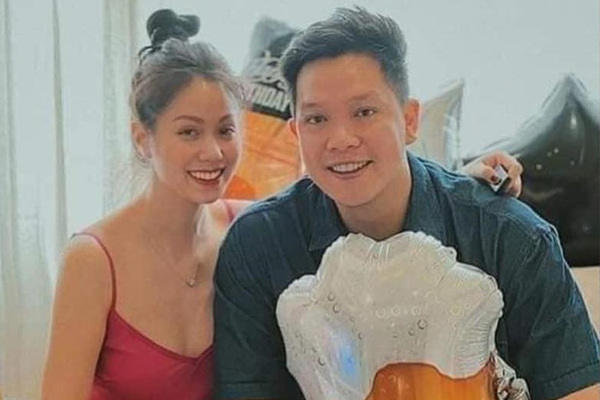 Nguyen Vo Quynh Tran (left) and Nguyen Kim Trung Thai
In March 2020, Hanoians were shocked by the news that a mother and stepfather brutalized Nguyen Ngoc Minh Minh, who was three years old, to death.
Nguyen Thi Lan Anh, the mother, and Nguyen Minh Tuan, the stepfather, both born in 1991 from HaiBaTrung district, were charged with murder and illegal possession of drugs.
Three months after giving birth to Minh, she married Tuan and left the daughter with her mother.
Later, the couple had a child and moved to a rented house on Pham Ngoc Thach Street. On March 5, 2020, Anh brought her daughter home. Tuan bought drugs to their home for gradual use.
On March 29, 2020, as the child was not obedient, Anh and Tuan took turns beating her.
From 8am on March 29 to 2am, Tuan and Anh six times hit and slapped the child on her head, face and neck with hands, metal broom handle and plastic broom, causing death because of a traumatic brain injury.
Both Tuan and Anh were using drugs.
The mother who tortured her child to death received a life sentence, while Tuan was sentenced to death.
In December 2021, the public was once again stirred up by the death of N.T.V.A, 8 years old, in HCM City.
The girl lived with her father, Nguyen Kim Trung Thai, 36, and stepmother, Nguyen Vo Quynh Trang, 26, in district 1, HCM City.
The investigation agency found that over the last year of living with his lover and the child at the rented apartment at Saigon Pearl in Binh Thanh district, Trang had many times beaten the child and caused her tragic death on December 22.
Trang said she was assigned by Thai to tutor A. She bought a rattan whip and used it to 'teach' the girl. When the whip broke, she used a piece of wood 90cm long instead.
The images from a camera in the apartment, which were erased by Thai and recovered by the police, proved that Trang hit the girl for many days. The data from the camera showed that from 2pm to 6pm on December 22, when tutoring A, Trang beat the girl brutally.
She used a piece of wood to repeatedly hit her back, buttocks, forehead and head, and even used her feet to kick vulnerable parts of her body. Trang also used a rope to tie the little girl. She forced A to kneel to study while drinking water, and slapped the child's face her hands.
When A. sat back in her chair to continue studying, Trang kicked her down. Only when the little girl fainted, lost consciousness and vomited did Trang call Thai and ask him to return home.
In another recent case, VinhLong Police filed charges against Nguyen Minh Quan, 21, and detained him for murder.
He lived with N.T.H.N, 22, and a two-year old boy, who is the son of N.
On November 30, 2021, Quan got angry because the boy was crying and kicked the boy's head and feet, leaving him unconscious. The boy died at 5pm on the same day because of a brain injury.
Solutions
In all three cases, the innocent children abused to death did not live in homes with both a father and mother.
Psychologists and criminologists pointed out that in the families without mother or father, or the families where children live with a stepmother or stepfather, there is a higher possibility of children being abused, especially if there are drug addicts.
These are vulnerable children and they need special attention from parents and authorities.
Lawyer Dang Van Cuong said to further strengthen measures to protect children, it's necessary to perfect the legal framework on children protection.
It is also necessary to disseminate and explain laws, especially laws on children's rights, to children, parents, guardians, teachers and the community to raise awareness of children's rights.
The system of agencies, organizations and officials with tasks and functions to protect children should be consolidated.
If children are abused within the management sphere, organizations and individuals have to take responsibility for this, pay a fine, or face legal proceedings.
Cuong noted that the entire society shows its disapproval every time when children are abused but the number of victims has increased.
T. Nhung
Vo Nguyen Quynh Trang, 26, from Gia Lai Province, is to be prosecuted for abusing an 8-year-old child to death.
The violent death has been triggering indignation among people nationwide.