"Rescue dragon fruit. Just VND90,000 per box of 20 kilograms." "Watermelon surprisingly cheap at VND5,000 per kilogram." These are the sales pitches heard by Phung Thi Tho in Hoang Mai district in Hanoi every day.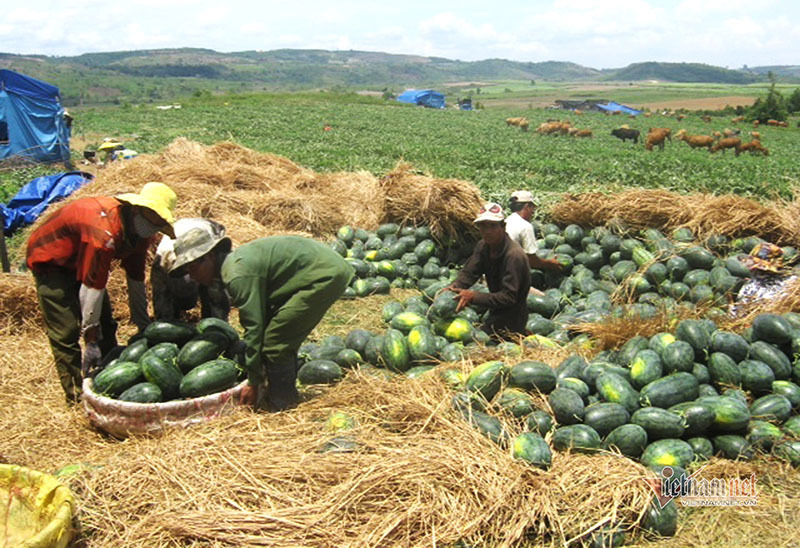 Since late January 2022, 'fruit rescue points' can be seen everywhere. Dragon fruit and watermelon are piled at each spot. Tho visits the sales point every few days to buy a box of fruit and 2-3 watermelons.
The sharp fall in exports to China has led to an oversupply in the domestic market and sharp price decreases.
Dragon fruit and watermelon are piled up on pavements and are sold at only VND4,000-6,000 per kilogram. On some streets, people can see container trucks carrying dragon fruit and selling wholesale at VND90,000 per box of 20 kilogram, which means just VND4,500 per kilogram.
Meanwhile, watermelon is sold at VND5,000-8,000 and mango VND99,000 per box of 13 kilogram, of VND7,600 per kilogram.
On online markets, Muong Khuong's pineapples are selling at VND5,000-8,000, while mangoes are VND10,000-15,000. Even high-quality mangoes are selling at VND20,000-25,000 per kilogram only, instead of VND45,000-80,000.
High-quality bananas for export are also selling on pavements with the prices of VND5,000-6,000 per kilogram. At some sale points, bananas can be bought at just VND3,000 per kilogram, which is even cheaper than an ice tea cup in Hanoi. Sellers said that the prices are cheaper than ever.
Nguyen Thi Oanh, a banana seller, said if exports to China had not been stuck, bananas would have sold at VND35,000-45,000 per kilogram and high-quality bananas would be only available at supermarkets.
Since the bananas cannot be exported, they now sell in the domestic market at low prices. Sellers are willing to sell at a loss, or the bananas will spoil.
Oanh had one container of bananas to sell. On the first day, she sold bananas at VND80,000 for one box of 10 kilograms and 135,000 for two boxes. But on the next days, she had to sell at VND35,000 per box, or just VND3,500 per kilogram.
Farmers incur big losses
In Gia Lai, Phu Yen and Binh Dinh, the 'metropolis' of watermelon, the prices of the fruit have dropped dramatically to VND2,000 per kilogram.
Phan Van Lam, who grows watermelon in Ea Cha Rang in Phu Yen province, said merchants now only collect first-class watermelon at VND2,200 per kilogram, and second-class VND2,000. After three months of cultivation, he has taken a loss of VND20 million.
Ngo Van Thuan, a farmer in Binh Dinh, is in the same situation. It's now harvesting time, but he can only 'harvest sorrow' as the watermelon prices have plunged.
Thuan estimates that the cost of growing watermelon on one sao (1 sao = 500 sq m) of land is VND7-7.5 million. Meanwhile, he earns VND3.8 million for one sao only.
"I have 30 sao of watermelon, and if I can sell out, I would take a loss of VND100 million. The households who have larger area of watermelon will take a bigger loss," he said.
In BinhThuan, a dragon fruit center, prices have been low for several months. Some households have chopped down dragon fruit trees as the more they grow, the bigger the losses.
Growing dragon fruit once helped local people become prosperous. On golden days, they could sell dragon fruit at VND50,000-60,000 per kilogram and make a profit of VND170-180 million per hectare. But now, when the production cost is VND10,000 per kilogram, the fruit is dirt cheap at only several thousand dong because exports to China are stuck.
Minister of Agriculture and Rural Development Le Minh Hoan said that the farm produce deadlock at border gates occurred 3-4 years ago but the situation was less serious then.
Every time when oversupply occurs and prices fall sharply, many questions are raised. Why does Vietnam rely on one large market and not develop the domestic market with nearly 100 million people?
Why don't enterprises process fruits for value added tax, but instead mostly export raw products? Why don't they standardize the quality of products and export through official channels instead of exporting across border gates? Why doesn't Vietnam make investments in logistics development?
However, the questions are 'forgotten' when the deadlock ends, and businesses and farmers no longer try to seek answers.
"We suffer from 'forgetfulness', i.e. when products are released and sold through 'rescue campaigns', we don't think about how to settle the problems. And we incur 'self-satisfaction'. We are satisfied about what we have and we are hesitant to make changes," Hoan said.
The General Department of Customs (GDC) reports that exports of vegetables and fruits in February 2022 continued to fall by 14.3 percent from the same period last year with export turnover of $508.7 million, a decrease of 9.6 percent.

Exports to China, the largest market, brought modest turnover of $261.2 million, down by 25.8 percent.
Tam An
With a population of 1.4 billion, China is an important market for Vietnamese agricultural products. However, this huge market is no longer easy. Instead of importing all kinds of agricultural products, since 2018, China has changed its rules.