Three CDC directors of Nghe An, Bac Giang and Thua Thien – Hue said they were innocent and denied having had relations with Viet A Company. But they all have been found involved in the scandal.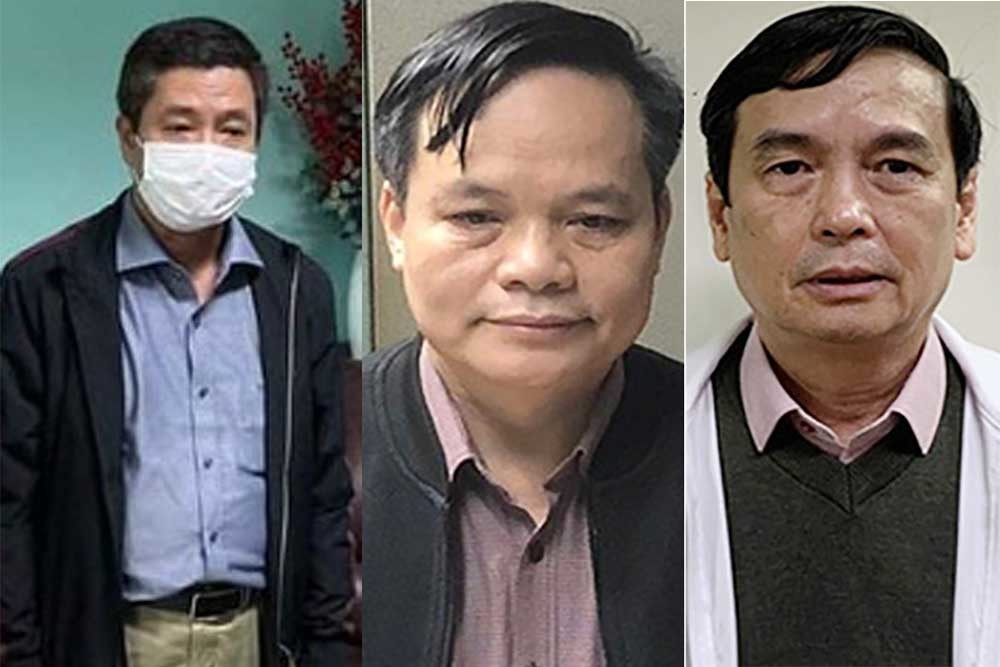 From left: Hoang Van Duc, Lam Van Tuan and Nguyen Van Dinh
On February 19, Thua Thien – Hue Police issued a decision on filing charges against Hoang Van Duc, Director of Thua Thien – Hue CDC, and detaining him for four months, and against Ha Thuc Nhat, chief accountant of the agency.
Duc and Nhat were arrested to serve the investigation on wrongdoings related to the procurement of materials and medical equipment, causing losses to the State.
Prior to that, Duc said that he did not receive commissions from VietA for the contracts on test kit procurement. He said that procurement of anti-pandemic equipment was implemented in accordance with current regulations and in a transparent way.
"I didn't receive any dong from Viet A. If I received anything, just a cup of coffee, I would deserve a prison sentence," he said.
Like Duc, CDC directors of other cities and provinces also claimed their innocence, but they later were found involved in the VietA case.
On December 20, 2021, Nguyen Van Dinh, Director of CDC Nghe An, told VietNamnet that the procurement of medical equipment was made in a transparent way, which strictly observed necessary procedures as stipulated.
But just 10 days after the affirmation, Dinh was arrested as he was found involved in the VietA case.
In a similar case, Lam Van Tuan, Director of CDC Bac Giang, told the press that he did not receive any money from VietA, and that CDC Bac Giang invited bids and hired consultants to choose medical equipment suppliers.
But just days later, on January 21, 2022, C03 released a decision on filing charges against Tuan and arrested him in order to investigate the case.
Before the detention of Tuan who was involved in the Viet A case, Director of Bac Giang Healthcare Department Tu Quoc Hieu said that over the last two years of fighting the Covid-19 pandemic, healthcare facilities in the province did not sign contracts on machines, medical materials and chemicals from Viet A.
In late December 2021, MPS initiated legal proceedings against Phan Quoc Viet, CEO of Viet A, in a case violating regulations on bidding, causing serious consequences; abusing positions and power while performing official duties; and giving and taking bribes.
To date, in addition to Viet, C03 has filed charges against 21 suspects, including high ranking officials of the Ministry of Health and MST.
Viet was found inflating test kit prices by 45 percent.
The first CDC Director to have charges filed against him was was Pham Duy Tuyen, Director of Hai Duong CDC. The others include Nguyen Van Dinh of CDC Nghe An, Nguyen Thanh Danh of CDC Binh Duong and Lam Van Tuan of CDC Bac Giang.
Ha An
The Police Investigation Agency of Thua Thien-Hue Province has detained Hoang Van Duc, director of the provincial CDC, and launched criminal proceedings against him for allegedly violating bidding regulations and gouging prices of Covid test kits.
The Ministry of Health, on February 19, issued Circular No.02/2022/TT-BTY regulating the price for Covid-19 testing services, effective from February 21.