A fisherman in Binh Dinh catches big tuna, while 3B cows imported from Belgium provide high meat yield in Quang Nam. More unusual stories: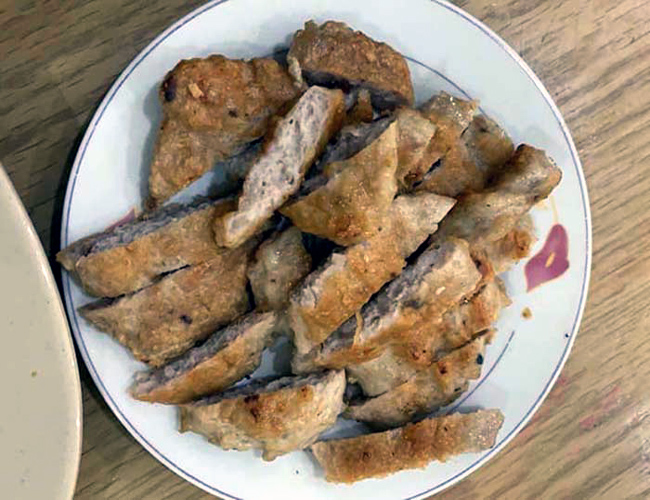 Grilled chopped duck meat
Special grilled chopped duck meat
Van Dinh Town in Ung Hoa district in Hanoi has been famous for grilled and boiled duck for many years. Everyone who comes, especially during the Huong Pagoda festival season, want to taste the dishes.
In the last two years, Van Dinh's people have created a new dish – cha vit, or grilled chopped duck. It's not difficult to make, but it requires more effort and time than any other types of grilled chopped meat made of fish, pork and beef. This is because duck is a kind of poultry meat and it has bones. It is necessary to remove the bones before processing.
While other grilled chopped meat dishes are eaten all year round, cha vit is mostly ordered in the second half of lunar months, not on the first days of the months, because people believe that they may have bad luck if eating duck at that time.
Cha vit can be preserved for a long time at low temperature, but sellers recommend that it should be used within 3-6 months.
Farmers get 'rich' thanks to giant cows
Nguyen Van Kiet in DienTho commune I Dien Ban Town in Quang Nam province is famous for raising cows, including 3B cows imported from Belgium. This is a cow species with big size, which provide high meat yield and is called a meat production machine.
3B cows have helped Kiet's family get rich quickly. One 3B cow can be sold at VND45-50 million, twice as much as other cows. One breeder cow is priced at VND20 million, and if it can be raised well, it can be sold at VND50 million after 10 months, which means a profit of VND10 million.
Kiet is hiring five local workers to raise cows at the salary of VND5-6 million to each.
Ancient streblus 2.9 meters tall
An ancient duoi tree (streblus asper), 2.9 meters tall, is being offered for VND6 billion. The tree belongs to a man in Ky Dong, Thai Binh province. Information about the tree was posted on the internet by an Youtuber.
After watching the video about the ornamental tree, people commented that VND6 billion is acceptable for an ancient tree with original, beautiful shape and canopy.
Giant tuna caught
Le Minh Phung, 44, a fisherman in Binh Dinh, has caught a special tuna with the length of 2 meters and weight of 210 kilograms. This was the biggest tuna out of the 20 tunas Phung's fishing boat caught during the Tet fishing trip. Most are 30-50 kilograms in weight.
Phung, a fisherman for tens of years, said that he has never before caught such a big fish.
"It took us 30 minutes to get the fish out of the sea to the boat," he said.
One tuna with the weight of over 50 kilogram is priced at VND150,000 per kilogram. The giant tuna was sold by Phung for VND30 million.
Special job in Ninh Binh: working with leaves
Old leaves fall and feed the trees, but the leaves of bo de (Ficus religiosa) are used by craftsmen to create beautiful handicraft products.
The old leaves are collected by people in Gia Sinh commune of Gia Vien district and used as a material to make leaf paintings or souvenirs.
Big leaves are soaked in lime water to get the veins of the leaves. The veins are dried under the sun and dyed to create the main materials for paintings.
Coconut tree climbing champion in Mekong Delta
Nguyen Van Nui, 40, in Thanh Yen Commune of U Minh Thuong district in Kien Giang province, is the coconut tree climbing champion.
Just within seconds, Nui can climb up a coconut tree 10 meters tall and then climb down quickly.
He can also peel dried coconut with his teeth very quickly and cut coconuts into segments with his elbow. He doesn't practice doing these things, but just does it for fun. He urges people not to imitate him because this could be dangerous.
Original bouquets on Valentine's Day
Instead of fresh flowers, many people choose to buy special flowers made of sweets, fruits, stuffed animals, or banknotes to give their girlfriends and wives.
The bouquets that were most favored on Valentine's Day are ones made of many stuffed animals, or with a heart shape in the middle.
Hanh Nguyen
A spice made of aromatic grass and ant eggs can only be found in GiaLai and five-color vermicelli in CaoBang are among the unusual products that can be found in Vietnam.
In Vietnam, there is a village where villagers like eating soil. Earthen lumps are smoked and cut into small pieces like cookies and considered a specialty.