Business managers are receiving calls asking them to pay their debts from black credit sources. But the debts were personal loans taken out by their employees.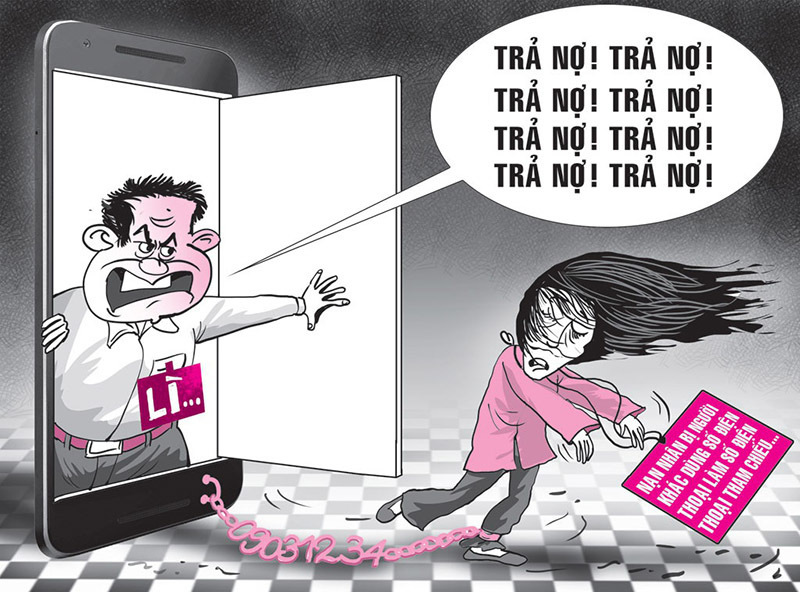 Nguyen Mai Trang, director of a business in Dong Da district in Hanoi, has received nearly 100 calls over the last two days. Her call list is full of anonymous phone numbers, with one call every several seconds. Trang feels as if she is being 'tortured' as she has to spend time to answer the calls and cannot receive calls from partners and relatives.
Trang said she did not borrow money from consumer loan providers. A caller introduced himself as the worker of a debt collection company, and reminded her of the debt that one of her workers had borrowed. However, the worker left the company a long time ago.
Trang does not answer calls from strange numbers but she cannot avoid the calls and messages because the callers have tricks to fool people.
The debt collectors not only call her but also deputy directors and division heads.
A director of a business in Binh Duong province told VietNamNet that she was called to demand payment for one of her workers. The debt collector called many times during the day and posted photos of her family on social networks.
She said that a worker of her company borrowed money via some apps and has not paid the debts. As debt collectors could not contact the borrower, they asked her to pay.
A director recently reported to District 7 and HCM City Police that he received a message which threatened to kill all of his family members, because one of his worker had borrowed money from an app.
The director said the loan was a personal one and unrelated to the company.
V.T.M, chair of a district in Kon Tum province, said he had trouble because an officer borrowed money via an app and forgot to pay debts. Though M told the debt collector that he was not a relative, he still received calls and messages asking to pay.
Anh Thu, director of a Hanoi-based company, is also a victim of black credit.
"And now, even the relative of staff borrow money, I also am asked to pay the debt," she complained. "The debt collectors call me all the time and upset me."
Le Manh Ha from HCM City Police said the number of debt collection calls increased pre-Tet.
According to the State Bank of Vietnam (SBV), with a population of nearly 100 million, and 60 percent of people at low and middle income, the demand for consumer loans in Vietnam is very high. Meanwhile, only a small proportion of borrowers can access official bank loans.
Despite the warnings about the consequences of using black credit, many people still borrow money from usurers. When they don't pay debts on schedule, debt collectors call to threaten borrowers, appropriate borrowers' assets and intentionally cause injuries. Since early 2021, there have been 347 such cases reported.
Ha said that victims in debt collection cases need to make an appeal to finance companies about debt collection methods. Also they can file a denunciation to the police if finance companies continue using telecommunications to harass and threaten.
Lawyer Nguyen Thanh Ha from TNP and Associates confirmed that in many cases, finance companies don't ask borrowers to pay debts but ask relatives and friends, which is illegal.
Under current laws, since January 1, 2020, finance companies must not call relatives of borrowers and ask to pay debts, because the relatives don't have the obligation of debt repayment. It is illegal to make too many calls, and threaten and post personal images and information to insult and defame borrowers and their relatives.
Ha said use the information provided by borrowers when signing credit contracts to urge borrowers' relatives to pay debts, is used for wrong purposes. Also, this use of information about borrowers without their consent violates the regulation.
Making calls and disturbing borrowers' relatives to ask for debt repayment is subject to a fine of VND10-20 million.
When being repeatedly called by financial companies to ask for debt repayment, a person can make a complaint to the company referring to measures on recovering debts in accordance with Clause 15, Article 1 of Circular 18.
Bao Anh
With exorbitant interest rates and gangster-style debt chasing, black credit has become a burning issue. The police have also warned that Vietnam may become a destination for foreign usurers.
Seventy-one percent of businesses anticipate revenue decreases in 2021, higher than the 65 percent figure in 2020, according to a survey.