The wife of billionaire Tran Dinh Long has added her name to the list of top 10 stock billionaires. Luong Thi Cam Tu has been appointed as Chair of Eximbank. Boss Duc's businesses face compulsory delisting. Top business stories: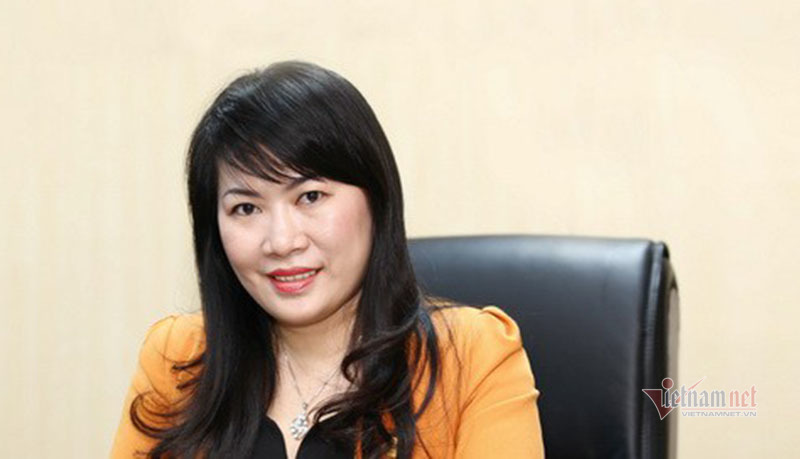 Luong Thi Cam Tu, Chairwoman of Eximbank Board of Directors
1. Vu Thi Hien, the wife of billionaire Tran Dinh Long, President of Hoa Phat Group, has taken the place of Pham Thu Huong, the wife of billionaire Pham Nhat Vuong on the top list of 10 stock billionaires.
Hien ranks 10th among the richest billionaires and the second richest businesswoman, just after Nguyen Thi Phuong Thao, who is now in the six position with assets of VND34.328 billion.
Like the other wives of billionaires, Hien's profile is kept confidential. The woman with the assets worth VND15.471 trillion is holding 328 million HPG shares, or 7.3 percent of charter capital of the corporation.
In total, Long and his family members hold 35 percent of HPG shares.
Both Long and Hien are the big shareholders of Hoa Phat Group, ranked the second and 10th richest stock billionaires. Their stock assets are estimated at VND70.5 trillion
2. On February 14, SHB shares of Sai Gon-Hanoi Bank owned by Do Quang Hien, or Boss Horn, saw the prices drop by 6.8 percent to VND22,000 per share from VND23,600. The capitalization value of the bank decreased by VND4.3 trillion.
The share price decrease has caused the assets of Hien and his son, Do Vinh Quang, to decrease sharply.
T&T Group of Do Quang Hien is now holding 10 percent of SHB shares, while Quang is holding 2.74 percent and Hien 2.54 percent.
Though the stock asset value decreased by VND120 billion just in one trading session, Quang is still among the 100 richest stock billionaires with assets worth VND1.6 trillion.
Quang became well known in Vietnam's stock market in 2020 after unexpectedly buying a large amount of SHB shares of the bank where his father, "Boss Horn", was president.
Prior to that, Quang had been chair of Hanoi FC at the age of 25 and then chair of TrangThi Trade and Service JSC.
In early 2020, he spent hundreds of billions of dong to successfully buy 35.9 million SHB shares.
3. Eximbank has announced the appointment of Luong Thi Cam Tu to the post of new Chair of the Board of Directors for the seventh term (2020-2025), replacing Yasuhiro Saitoh.
Tu became a member of the board of directors at the second 2021 shareholders' meeting held on February 15.
Tu also received support from Bao Minh Securities JSC and five other individual shareholders.
Tu was born in 1980. She has a bachelor's degree in business administration granted by VanLang University and a master's degree granted by Griggs University. Before joining Eximbank's board of directors in April 2018, Tu was CEO of NamABank.
Tu was appointed as Chair of the Board of Directors of Eximbank in the sixth term (2015-2020) to replace Le Minh Quoc, the independent member of the board of directors, on March 22, 2019.
4. Truong Thanh Corporation (TTF) has seen share prices soaring to an historic high of VND14,000-15,000 per share, three times higher than one year ago. The capitalization value of the wooden furniture manufacturer increased by VND3 trillion to VND5.5 trillion.
As such, after a lot of difficulties, TTF share prices surpassed the VND10,000 per share as committed by TTF Chair Mai Huu Tin, while shares were cheap in 2019, at VND2,000-3,000 per share.
However, TTF business remains unsatisfactory with an accumulative loss of VND3 trillion as of the end of 2021.
Prior to that, Mai Huu Tin poured VND100 billion into TTF to recover the corporation. Tin also called on shareholders and shareholders to buy TTF shares at the nominal value of VND10,000 per share.
In late 2021, Vo Quoc Loi, a member of the Board of Directors, successfully bought 1 million TTF shares.
Loi, born in 1988, is the son of Vo Quoc Thang, or "Boss Thang", who is Chair of Dong Tam Group and was once chair of KienLong Bank.
Also in 2021, TTF made a private offering of VND40.5 million shares. Tin said he successfully persuaded Vingroup to swap TTF's debt into preferential shares with dividends of 6.5 percent per annum.
5. Under current regulations, HAG shares of Hoang Anh Gia Lai, owned by the well-known businessman Doan Nguyen Duc, are subject to compulsory delisting and the shares have to be listed on UpCom because the company has incurred a loss for the third consecutive year.
Hoang Anh Gia Lai has recently sent a document to the State Securities Commission (SSC) and HCM City Stock Exchange (HOSE), asking to allow the group to apply a new principle, under which HAG shares would be delisted if the group cannot make profit in H1 2022 and the entire year 2022.
The corporation said that Hoanh Anh Gia Lai has become better after restructuring, and a lot of debts have been settled. It made a profit of VND120 billion in 2021 and expects profit of VND1.1 trillion this year.
State management agencies have not made any official announcement to reply to Hoang Anh Gia Lai's proposal. However, the proposal is not in line with the current laws on the stock market.
Bao Anh
2021 was a stormy year with two pandemic waves. However, thanks to reasonable strategies, Vietnamese billionaires weathered the storm and became richer.
In 2021, despite great challenges caused by Covid-19, the enterprises of Vietnamese billionaires are growing and thriving.