Bus driver Le Xuan Huy has become a familiar face for bus travellers in HCMC, for his heroic deeds and acts that bring joy.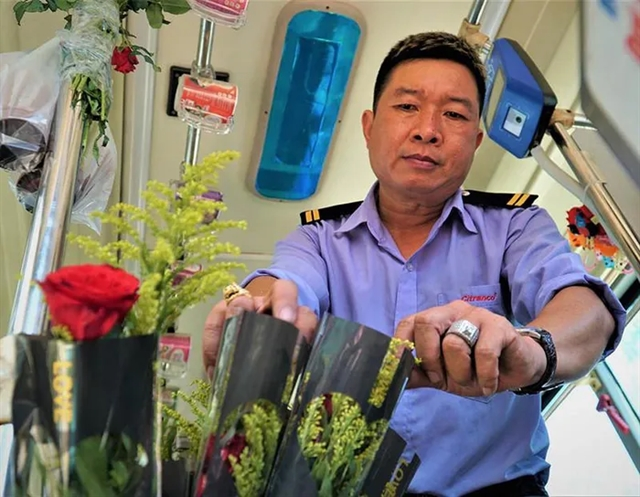 Bus driver Lê Xuân Huy prepares flowers for female passengers.— Photo plo.vn
"I once worked at a bank in An Giang, but quit it when my family was going through some tough times," Huy told Pháp luật (HCM City Law) online newspaper. "I went to HCMC to become a worker until 2016 when my friend referred me to a job working on the bus."
"I worked hard for a bus driver's licence, and here I am now driving bus No.34 daily."
In his first days on the job, Huy saw that some passengers did not have spare change.
"Although we told passengers to bring smaller notes, sometimes they only had big notes or have their wallets stolen," said Huy.
The bus driver took it upon himself to place a box of spare changes near the entrance, with a small note: "If you forgot to bring spare changes, just take enough for a ticket here."
Huy took VNĐ50,000 (US$2.19) out of his own pocket and exchanged it for smaller notes to put in the box.
"It cost me just a sandwich or a cup of coffee, but it brought happiness to many people," he said.
Pickpockets and thieves are not rare in HCMC, and Huy has helped authorities catch around 20 of them. In doing so, he earned the nickname "Bus Hero."
"I was driving near Kênh Tẻ bridge when I saw a gang of thieves stealing a woman's motorbike," Huy recalls, "I drove the bus right at the stolen bike and the thieves, and pushed them just enough to make them fall."
The gang then got away, and the motorbike was returned to its owner.
"Even when I recall that day, it's still inspiring," he said.
Outside of giving away spare changes and stopping thieves, Huy is also dedicated to bringing smiles to his passengers, especially on special occasions.
For the fourth year in a row, Huy bought flowers and International Women's Day gifts for female passengers.
This year's gifts featured 300 roses, 150 keychains as well as candies, which cost around VNĐ7 million (US$306) that Huy paid for himself. He also paid for female customers' tickets.
"The gifts are not big, but they bring smiles to my passengers. If other companies or people can gift on Women's Day, why can't we?" he said.
Although people may call him a "busybody," Huy is always ready to assist people in need.
"I guess it's just my instinct to help people," said the bus driver.
Source: VNS