Hoàng Lan
Nam Định is not only well known for specialities such as beef noodle soup and bánh xíu páo (char siu dumplings) cake but also bún sung (fig vermicelli).
The dish has become popular among locals and travellers visiting this northern province, said resident Nguyễn Thị Đào, who has been selling the dish in the central city's Diên Hồng Market for almost 30 years.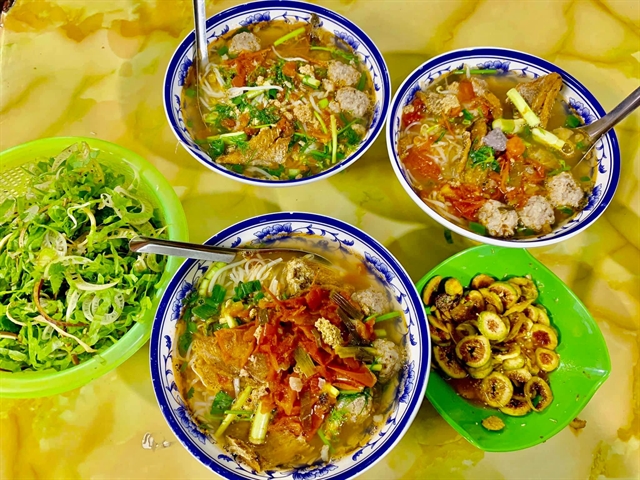 Bún sung (fig vermicelli) is a popular dish in Nam Định. Photo Nam Anh
"The origin of the dish was traditional bún riêu cua (crab vermicelli soup). I decided to add fermented figs as a topping.
"People also call the dish bún tóp mỡ," she said.
Ingredients to make the dish include field crabs, tomatoes, fresh and dried onions, fermented figs, fermented rice, chilli and pepper.
Đào said she ordered crabs from rural districts such as Hải Hậu and Giao Thủy. "I have to carefully choose each crab so as to ensure a tasty broth. I also choose sticky figs which are pink inside to be fermented because they have a sweet flavour."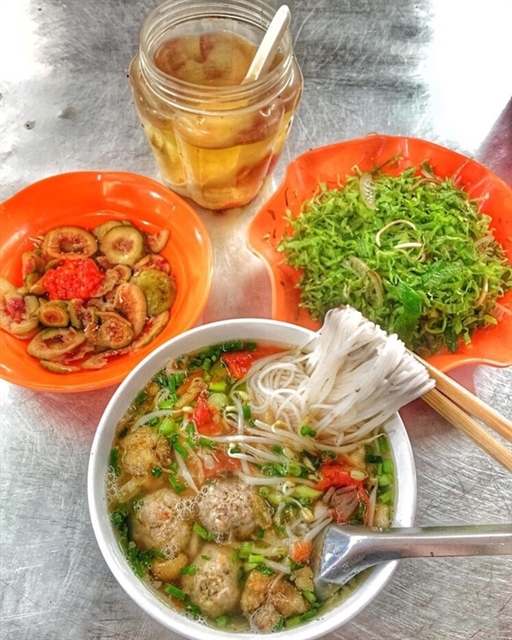 A bowl of bún sung is nutritious. Photo @chun_fatty
"My family members and I have to wake up at 3am to prepare things and cook the dish. We open our shop from six until 8pm," Đào said, adding that she sells the dish all year-round but it is more popular in the winter, particularly after Tết.
The dish is enjoyed with lettuce, basil, coriander, perilla, oregano and young banana slices. Some diners like to put some shrimp paste in their bowl.
Đặng Thị An, from Nam Định Town, said she and her husband often walk to Diên Hồng Market to enjoy Đào's dish.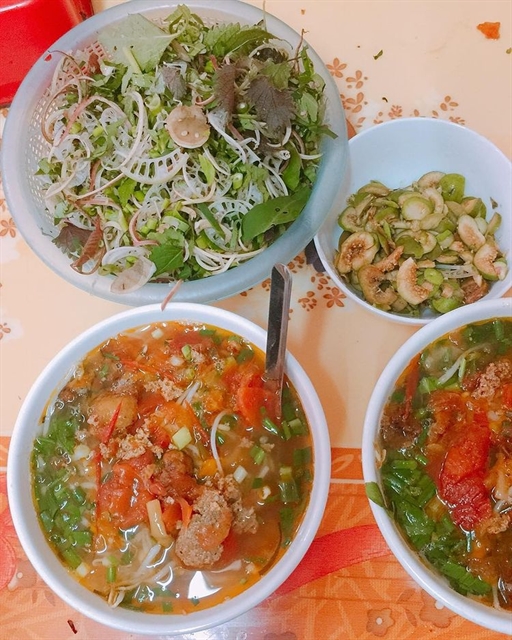 Diner like to enjoy bún sung with fresh herbs. Photo @trangkoi21
"We have become regular guests since we moved to the town five years ago. It is our favourite dish because it carries traditional characteristics, rich rural flavours and an affordable price of between VNĐ10,000-20,000 per bowl," An said, noting that she also invites guests to enjoy the dish at Đào's shop.
An's husband Hoàng Anh Dũng said he likes the dish not only for its light sweet broth but also the fermented figs.
Sticky figs can be fermented to become a special ingredient in bún sung. Photo traicaycaonghe.vn
Although the dish varies from its original recipe, there is a harmony between ingredients and spices, said Dũng.
Herbalist Nguyễn Hồng Minh, from the Nam Định Provincial Centre of Traditional Medicines, said the dish is rich in vitamins and minerals. VNS