Despite impairments in the economy and business revenues, Vietnam has decided to increase its budget deficit this year and next year in order to ensure state budget spending for the country.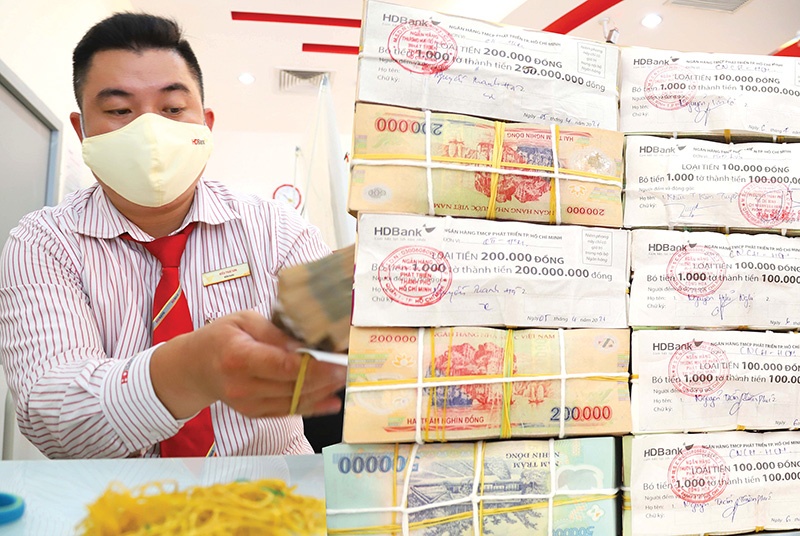 The economic stimulus package is expected to boost recovery of business and investment.
The National Assembly has adopted a scheme on raising the state budget within 2022 and 2023 by an annual average rate of 1-1.2 per cent of GDP, with a maximum permitted sum of $10.43 billion. The rate will be 1.1 per cent of GDP this year, with a maximum amount of $4.47 billion. The government will formulate the state budget planning for 2023 which will be submitted to the National Assembly (NA) for consideration.
This scheme is part of the legislature's monetary and fiscal policy worth $15 billion in service of the country's programme on economic recovery and development for 2022-2023, promulgated just two weeks ago. The scheme is also set to help boost business and production activities which will drive the economy to an average 6.5-7 per cent growth rate for 2021-2025, after the economy rose 2.58 per cent last year.
State President Nguyen Xuan Phuc said that livelihoods and businesses remain in difficulties due to the pandemic. "It will be very difficult to reach all targets set out in the resolution of the 13th National Party Congress. Thus we would need more effective solutions to support people and businesses. International experience shows that many nations have taken bold actions by increasing state budget spending in order to boost economic recovery. This is also a lesson for Vietnam to consider and apply," he said. "The country's goal of the monetary and fiscal policies is aimed to support production and business activities, generate employment, and this will support economic growth and solve other social issues."
Previously, many NA deputies like Ha Duc Minh representing the northern province of Lao Cai asked the NA to consider a rise in the state budget deficit. "The budget overspending for 2021 is estimated to be around $14.96 billion or 4 per cent of GDP, and an expected $16.2 billion for 2022, also equivalent to 4 per cent of GDP," Minh explained. "Meanwhile, total development investment capital for 2022 is estimated to be $22.87 billion – including $13.21 billion from localities' coffers and $9.65 billion from the central budget."
Thus, Minh said, the room for a bigger budget deficit under the Law on State Budget is valued at around $6.65 billion at least. "A climb in state budget deficit is needed so that there will be more resources to implement socioeconomic development goals and support enterprises, while the state budget will be able to stay at a safe level," Minh added.
Echoing this view, deputy Hoang Van Cuong representing Hanoi, deputy Nguyen Ngoc Son representing the northern province of Hai Duong, and many others also highly value an increase in state budget overspending. "Experience showed that in the 2011-2015 period, for the economy to recover from the global financial crisis happening in 2008-2009, we used public investment to spur demand via increasing the state budget deficit with the issuance of bonds," Son said.
"There should be a rise of 2-2.5 per cent in the deficit within the next two or three years so that we can have more resources to implement recovery plans and make new breakthroughs in socioeconomic development," Cuong added.
Deputy Tran Hoang Ngan from Ho Chi Minh City noted that the growth issues faced in the last two years had affected the city deeply.
"In Ho Chi Minh City alone, the two-year losses in growth is estimated to be worth around $12 billion. In terms of state budget revenue, the entire economy suffered from a reduction of $6.52 billion, with the city's being over $3 billion," Ngan said.
Prime Minister Pham Minh Chinh last September ordered the Ministry of Finance to study the possibility of raising the economy's budget overspending in order to "make bigger room for ensuring expenditure for national development and macroeconomic stability."
The NA last month adopted a resolution on fiscal and monetary policy to support the national programme on socioeconomic recovery and development for 2022-2023, worth up to $15 billion. Under the resolution, VAT for applicable goods and services will be reduced to 8 per cent in 2022 (down 2 per cent from the existing rate of 10 per cent), excluding goods and services in the sectors of telecommunications, IT, finance and banking, insurance, stocks, real estate, metal production and mining industries (except coal), coke production, petroleum, chemicals, and commodities and services that are subject to special consumption tax. A sum of $608.7 million will be used for building new or upgrading local-level medical facilities and regional-level centres for disease control, and boosting domestic production of COVID-19 vaccines and medicines.
About $2 billion from other legal financial sources will be for importing vaccines, therapeutic drugs, and medical equipment and supplies for pandemic prevention and control. The Bank for Social Policies will be injected with $217.4 million to implement a preferential lending policy.
Investment in building, upgrading, and expanding establishments for social assistance, training, vocational training, and job creation could be valued at $137 million.
The resolution also stated that enterprises, cooperatives, and business households are to enjoy an annual 2 per cent reduction on loans from commercial banks for some sectors.
In addition, credit institutions are requested to continue to cut operating costs to reduce lending interest rates by about 0.5-1 per cent in 2022 and 2023, especially for priority sectors.
"The economic stimulus package is expected to stimulate demand and help businesses recover faster, further develop the healthcare system, and boost investments in sectors and infrastructure facilities that are essential for the country's continued economic growth," said Carolyn Turk, World Bank country director for Vietnam.
Major targets for 2022
– Balance of accumulation-consumption: GDP scale will hit about $395-399 billion, with final consumption accounting for 68 per cent of GDP, and the rate of asset-based accumulation will be 32 per cent of GDP.
– State budget balance: Total budget revenue will be about $61.4 billion, while total budget spending will be about $77.6 billion – including $22.4 billion for development investment. The total budget deficit will be $16.2 billion or 4 per cent of GDP.
– Export-import balance: Total export-import turnover will be as much as $660.8 billion, up 5.2 per cent against 2021 – of which total export turnover will be $329.9 billion, up 5.4 per cent as compared to 2021. The total trade deficit will be about $1 billion.
– Power: Total power capacity (excluding roof-top solar power) is estimated to be around 70,000MW, up about 3.5-4 per cent against 2021. Total produced and imported power output will be 291.8-293.7 billion KWh, up around 10 per cent over 2021, while total commercial power output will be 250.7-252.3 billion KWh, up around 9 per cent on-year.
Source: Government plan on socioeconomic development in 2022

The accommodative monetary policy implemented in 2020–2021 to help businesses during the crisis is expected to be unwound starting in mid-2022. The return to a more prudent monetary policy will be justified by the greater use of fiscal instruments and by the need to manage the increasing risks within the financial sector as commercial banks are exposed to an increase in non-performing loans in their portfolios.

The authorities should ensure that banks are ready to implement an effective and early resolution to non-performing loans so that confidence in the banking system is not affected by the expiry of the forbearance measures. Monetary authorities are also expected to revert to a prudent policy to manage inflation as the nominal monetary aggregates have increased two to three times faster than the real economy since the beginning of the pandemic, suggesting a correction in prices in the longer run.

Inflation is expected to remain within the target of 4 per cent set by the State Bank of Vietnam. Recent global price increases reflect some pandemic-related supply-demand mismatches and higher commodity prices compared to their low base a year ago. These price pressures are expected to subside in 2022. The pandemic-related price increases are expected to dissipate in the coming year, as production disruptions are resolved.

While some of the recent global commodity price increases, such as the price of petroleum, may continue in the medium term, domestic demand is expected to improve gradually in 2022, only recovering fully in 2023, thus countering inflationary pressures. The authorities will need to monitor the rise of non-performing loans and bank asset quality to ensure banking sector health and to push for the adoption of Basel II capital rules for all operating banks.

In the medium term, full recovery of the economy to a pre-pandemic growth path is only expected in 2023, with full recovery of the services sector and barring new shocks. On the global front, beyond 2022, global growth is projected to moderate to about 3.2 per cent over the medium term.

Advanced economic output is forecast to exceed pre-pandemic medium-term projections, largely reflecting sizable anticipated further policy support in the US that includes measures to increase potential growth. This could translate into further manufacturing exports from 2023 onwards for Vietnam since the US is Vietnam's main export market. Source: World Bank
Source: VIR
The data announced by the General Statistics Office in late 2021 described Vietnam's economic picture in a turbulent year surrounded by the pandemic, the fear of disruption of supply chains, and the confidence of the business community.
The Government has issued Resolution No. 01/NQ-CP on the main tasks and solutions for implementing the socio-economic development and State budget plans for 2022.