The Vietnamese health ministry has reduced the waiting time between the second COVID-19 vaccine dose of the primary course and the booster shot.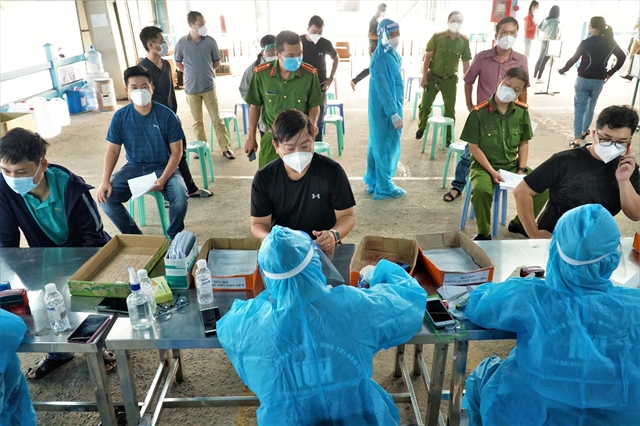 A vaccination site offering third COVID-19 vaccine dosesfor frontline workers at Gò Vấp District, HCM City, on December 10, 2021. HCM City was the first in the country to start giving booster shots.
Instead of six months, the latest booster guidelines say the third jab can be administered just three months after people received their second shot.
In line with World Health Organisation's recommendations, the health ministry defines booster dose as the one given to people who have completed the primary course of vaccination, but since the protective efficacy of the vaccine wanes over time, a booster is needed to 'restore' the vaccine effectiveness from a level deemed no longer sufficient.
An 'additional dose,' on the other hand, is defined as part of an 'extended primary course' for people who have the standard dosage but the immune response is still not good enough, and is meant help establish a sufficient level of antibodies and protection against disease. Immunocompromised people or the elderly may have a poorer immune response than the general population in response to a standard primary course.
Primary course refers to a standard dosage and schedule as prescribed by the manufacturers. COVID-19 vaccines used in Việt Nam are mostly in the two-dose regimen group, like AstraZeneca, Sinopharm, Pfizer, Moderna, etc., with the exception of a limited amount of Cuba's Abdala vaccines which are three-dose.
The additional dose is administered at least 28 days after the last dose of the primary course, while the booster/repeat shots are administered at least three months after the last dose of the primary course or the additional dose.
In the guidelines, the additional doses will be given to people who have received the primary course, but suffer from moderate to severe immunodeficiency such as organ transplant recipients, cancer patients, people with HIV, taking immunosuppressive drugs or treated with such drugs within six months, as well as people who have received two doses of Sinopharm's Vero Cell, Inactivated vaccine or Sputnik V vaccines.
The additional dose is administered 28 days or three months after the last vaccine dose.
The vaccines to be used are either the same type with the primary course, or mRNA technology vaccines (Pfizer or Moderna).
People with medical authorities' indication to receive the additional dose can be considered to have completed the primary course after getting the additional dose.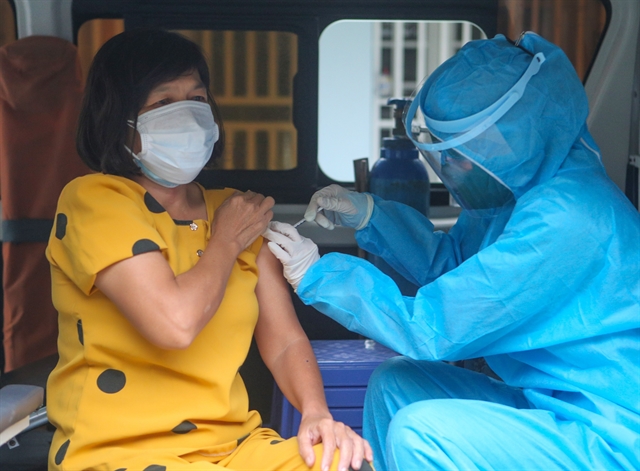 An elderly woman in the central city of Đà Nẵng received COVID-19 vaccine shot from a mobile vaccination team.
The booster vaccine shots are to be given to all adult population (aged 18 and above) who have received the primary course, with the goal of covering 100 per cent of all people with underlying health problems or requiring medical care, people from 50 years old and above, people who are directly involved with COVID-19 testing and treatment of COVID-19 patients, and medical workers.
The booster doses are to be given three months after the last shot of the primary course. If they received the first and second doses of the same vaccine (homologous vaccination) or of different vaccines (mix and match, heterologous vaccination), the booster dose will be mRNA vaccines. If the primary course's vaccine is Sinopharm, one is eligible for another booster Sinopharm shot or mRNA vaccines or vector virus vaccines (like AstraZeneca).
A person could receive booster dose right after their recovery and mandated quarantine from COVID-19 infection.
The health ministry instructed local administrations to plan for booster shots from December, complete first-dose coverage for 100 per cent of population aged 12 and above within 2021, and provide second dose for those who are scheduled to have one.
HCM City, the epicentre of the fourth wave of infections in Việt Nam, was the first in the country, to kick off booster drive, with priority for frontline workers and people with immune diseases, from earlier this month, and many other localities have also announced their plans.
Prime Minister Phạm Minh Chính has repeatedly urged health authorities and local administrations to speed up vaccination and complete vaccination of adult population within this year, wrap up booster campaign by June next year.
To date, Việt Nam has administered about 138.77 million doses of COVID-19 vaccines, including 75.69 million first doses, 61.89 second doses, and 1.184 million third doses (comprising additional and booster shots, and Abdala third dose).
Source: VNS