Liquidity has increased sharply over the last three trading sessions, especially since February 24, when Russia triggered the latest war with Ukraine. Cash flow is strong with liquidity of VND30 trillion each trading session.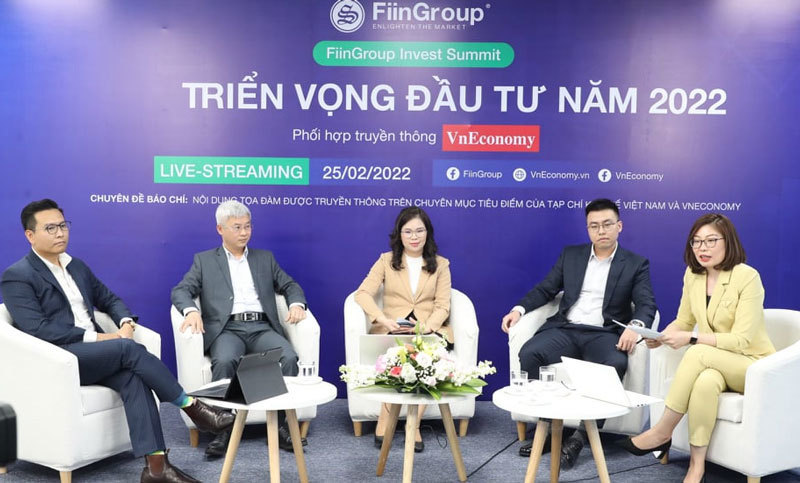 At the workshop on investment prospects in 2022
This could lead to a stock market boom whenever there are favorable conditions. Investors wait for a 'catalyst' to disburse money. Observers believe that the VNIndex will climb to 1,600-1,800 points in some days.
Optimistic forecasts
At this moment, VN Index is still hovering around the 1,500 point threshold, while liquidity remains relatively weak in the first two months of the year. The average liquidity of all the three bourses (HCM City Stock Exchange – HOSE, Hanoi Stock Exchange – HNX and UpCom) is just equal to the average level in 2021 and equal to 80 percent of the peak days (Q4 2021).
The number of newly opened accounts increased rapidly and margin trading rose from VND150 trillion on September 30 to VND175 trillion at the end of 2021, while the investors' deposit balance was high. This shows that investors are still looking forward to hearing positive factors that prompt them to disburse money.
Do Hong Van from FiinGroup, said at the workshop on investment prospects in 2022 held some days ago that the valuation factor of the entire market is at a relatively high level compared to 2020 and previous years.
With VN Index, for example, the P/E is at 17.2x, equal to the average level since 2018. However, valuation is affected by banks which account for one-third of capitalization value and profits. Therefore, it's necessary to consider non-financial and banking sectors separately.
Van said the stock market this year would be affected by three major factors, including businesses' growth prospects, market valuation level (in accordance with P/E) and external factors (macroeconomic environment such as interest rates and inflation). Of these, the first factor is the most important.
Businesses' growth prospects remain positive, especially business fields affected by Covid-19 over the last two years. The planned growth rates of large corporations which account for 58 percent of total market capitalization value is 20 percent (it was 43 percent in 2021).
However, the supply of secondary stocks is very high. Listed companies plan to mobilize VND120 trillion worth of capital in 2022 through stock issuance. However, issuance campaigns recently showed low success rates.
FiinGroup believes that only when cash flow from the majority of individual investors comes back strongly will the big supply of secondary stocks be absorbed. Meanwhile, cash flow from foreign investors has not shown any positive signal.
In 2022, the market is expected to witness reversal in the growth among business fields. The profit growth of commercial banks is expected to outperform the non-financial sector, which is contrary to the situation of 2021, thanks to expected credit growth rates, plus the economic recovery and the Government's economic stimulus package.
NIM will continue to be maintained, even if the deposit interest rates increase as banks will cut interest rate support.
Some businesses fields which witnessed strong growth in 2021 are expected to see profit growth slowing down, such as steel, rubber and logistics. Meanwhile, the business fields seriously affected by Covid-19 are expected to recover strongly this year once economic activities return to normal, such as medicines, retail and beverages.

Liquidity has increased sharply over the last three trading sessions, especially since February 24, when Russia triggered the latest war with Ukraine. Cash flow is strong with liquidity of VND30 trillion each trading session.
FiinGroup recommends investments in stocks which can benefit from public investments (banking, real estate, industrial real estate and building materials), and from post-Covid recovery (retail, seafood and personal goods).
Real estate continues to be attractive
Pham Anh Khoi, CEO of FINA, said the real estate market continued growing in 2021 despite Covid-19. One of the reasons was supply shortage, especially in the south. The demand decreased, but the drop was smaller than the decrease in supply, so the prices still increased. Those who wanted to buy real estate for accommodation had to seek houses in the suburbs where the supply was more stable.
The warmth of the real estate market in 2021 is also attributed to interest rate policy with preferences for both developers and buyers. Commercial banks lowered lending interest rates in order to encourage purchases of real estate products.
According to FiinGroup, because of Covid-19, in 2021, the apartment supply decreased in both Hanoi and HCMC by 7 percent and 20 percent, respectively, compared with 2020. The same situation was reported for villas and semi-detached houses.
Because of the short supply, land transactions accounted for a large proportion, mostly in second-class urban areas and suburbs.
According to MOC, land transactions accounted for 60 percent of total transactions in 2021, while 91 percent of the transactions were not in Hanoi and HCM City. The prices increased in all segments, mostly land, by 20-30 percent.
According to Khoi, investors need to understand who they are in the real estate investment chain. The investment process can be divided into five stages 1/ordering (F0 investor), 2/depositing (F1) 3/signing purchase contracts (F2), 4/making payment (F4) and living (F4). The expectations and risks for each stage are different.
Unlike securities investments, Khoi said that real estate investments are mostly long-term investments, and profits from short-term investments can be made just because of luck.
V. Ha
Dr. Nguyen Tri Hieu, financial and banking expert, warned that the increasing tensions between Russia and Ukraine would negatively affect Vietnam's stock market.
Real estate developers are eyeing the central region, and planning to develop large projects there, according to DKRA Vietnam.