Foreign investor commitments to developing billion-dollar projects in Vietnam so far this year promises a solid foundation in realising a $40 billion target in overseas capital for the whole of 2022.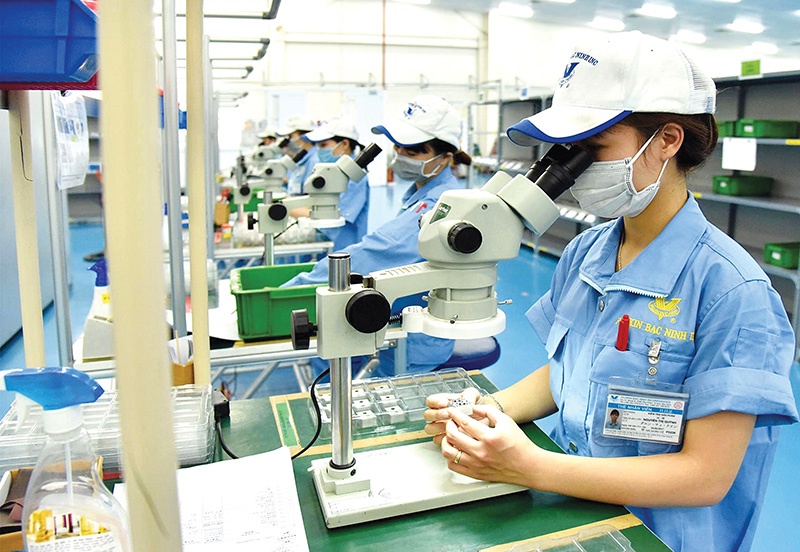 Manufacturing is one key area in which top Japanese and Indian investors are placing attention, Photo: Le Toan
Aurous Capital Pte., Ltd. from Singapore and Vietnam's Saigon Telecom Technology JSC have signed an MoU on cooperation in a $2.5-billion project to develop an industrial and urban complex in the northern province of Bac Giang.
This was the largest among a series of crucial projects valued at a total of $11 billion signed at the Vietnam-Singapore Business Dialogue, which took place within the framework of State President Nguyen Xuan Phuc's state visit to the city-state of Singapore during February 24-26.
The two sides have agreed to conduct research and survey activities in order to build a complex, which would comprise 500 hectares of industrial estates and 200 hectares of housing, towards attracting projects in high technology, clean industry, knowledge-intensive industry, and logistics and support.
Also taking place in February, prominent Indian investor SMS Pharmaceuticals signed a key deal with Indian builder Sri Avantika Contractors and local property developer Dai An Urban and Industrial Zone Development to pump around $10-12 billion into building a pharma industrial zone in the northern province of Hai Duong.
SMS Pharmaceuticals is a top pharmaceutical manufacturing company in India, with world-class facilities and a business presence in over 70 countries. Chairman Shri Ramesh Babu Potluri underlined that the forthcoming project in Hai Duong would be a prime location for the world's most renowned pharmaceutical corporations.
"With both the vast potential and advanced technology, export markets for Hai Duong province's pharmaceutical products would not be confined to a small geographic area, but would also include several developed economies such as the Unied States, Japan, and the European Union," he said.
A series of other projects of a massive scale are in the works this year in this country, such as one developing urban and service infrastructure at the Vietnam-Singapore Industrial Park Bac Ninh worth $941 million, and a $920 million venture in the northern province of Thai Nguyen funded by Samsung Electro-Mechanics Vietnam Co., Ltd. as well as other projects worth hundreds of millions of dollars.
There have also been several positive signs in foreign direct investment in the first two months of the year. According to the Ministry of Planning and Investment's Foreign Investment Agency, $631.8 million was poured into 183 newly-licensed projects, an increase of over 45 per cent in the number of projects. Around $3.59 billion was added to 142 projects currently underway, more than twice as high as a year ago in value.
Overseas investors also poured nearly $770 million into 400 share purchase deals, which is an increase of 41.7 per cent on-year. In addition, capital disbursement rose slightly by 7.2 per cent on-year, to $2.68 billion.
Necessary to reach the target of $40 billion in foreign capital attraction this year will be the successful disbursement and investment commitments in the framework of leaders' special investment promotion trips overseas, such as President Phuc's Singaporean visit and the trip to Japan last November by Prime Minister Pham Minh Chinh.
Takeo Nakajima, head representative of the Japan External Trade Organization, said Vietnam would continue to be one of the most attractive investment destinations for Japanese groups, especially after the November visit in which the Vietnamese PM oversaw the signing of 25 major cooperation agreements worth up to $12 billion.
"The agreements have set up a strong foundation for Japanese investments to flow into the country in 2022," said Nakajima.
Source: VIR
Foreign investment funds all have positive forecasts about the prospects of Vietnam's economic recovery and stable growth of foreign direct investment (FDI) inflows in 2022.