PEDAL POWER: Young people interested in new bike rental service in HCM City. VNS Photo Xuân Đăng
By Xuân Đăng & Hoàng Như
HCM CITY — After over one month of trial, a bike rental service in District 1, HCM City has attracted many users, especially the young.
According to Đỗ Bá Dân, chairman of the Trí Nam Group, the investor of the bike rental service project, more than 62,000 people have used the service in HCM City during the trial period.
The service is especially popular at weekends, with most customers aged 18-40 years old.
The project aims to introduce a new mode of transport in the city centre, and reduce pollution.
Minh Anh, 22, from Bình Thạnh District, said that riding a bicycle excited her and her friends. Cycling has become their new hobby at the weekend instead of heading to a coffee shop to talk.
Hoàng Việt, 25, from Tân Bình District, said that he finds the service suitable for people who want to go for a walk or travel around the city rather than go to work.
It will help minimise the use of motorbikes, reduce travel costs, and protect the environment, Việt added.
The Trí Nam Group ran the pilot bike-rental business starting on December 16 last year in HCM City. The project set up 43 bike rental stations with around 400 bikes available.
These stations, each covering 10-15sq.m, are located on the sidewalks of multiple streets in District 1 and close to local bus stops, parks and popular tourist destinations.
There are about 10 to 20 bicycles at each station.
The bicycles are equipped with smart locks, GPS systems, 2G, 3G, and 4G networks, Bluetooth, a distinctive plate number, as well as front baskets and headlights.
People can use the bikes to travel around the city and return to any rental spot of the group in District 1.
Thanks to the high density of the area, people find it convenient to grab one for travelling short distances.
Phương Anh, who works in District 1, said that she had started to use the service for going to work because there was a rental station near her house.
"I can both save money and do exercise when I go to work by bicycle. Moreover, buying a new one is not suitable because my house is too small to store it," she said.
To use the service, users need to download the TNGO mobile application, then scan a QR code to unlock a bike at any rental spot.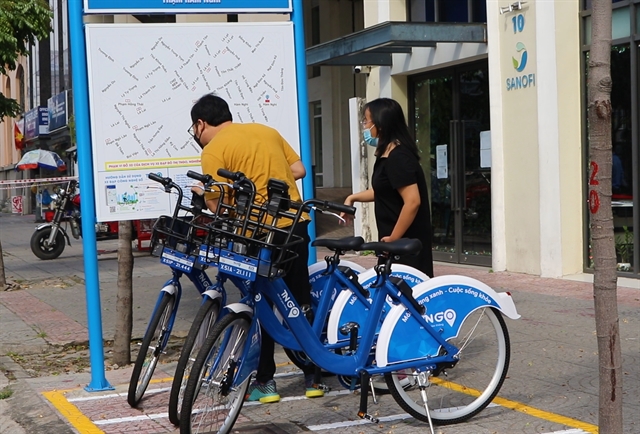 A public bicycle rental site, one of 43 rental spots in District 1. — VNS Photo Xuân Đăng
Thanh Diệu, 50, from Bình Thạnh District, had some difficulties when using the app for the first time.
"Scanning QR code is quite unfamiliar to me. However, I got help from younger people around and now I can use it smoothly," Diệu said.
The app also helps users to find the nearest rental spot, and keeps track of data such as kilometres travelled, calories burned, and the number of carbon emissions a user saved by not using other vehicles.
Prices start at VNĐ5,000 (22 US cents) for 30 minutes, with an hour costing VNĐ10,000 (44 cents).
Users can input money with various electronic wallets such as Momo and Zalopay, which are easy and popular.
Ngọc Diệp from Bình Tân District said that she enjoyed the new mode of transport. "However, the municipal authorities need to mark off bicycle lanes in the city to create favourable conditions for the service to develop," she said.
"People will still ride motorcycles if a designated lane is not available. Otherwise, they will use their bikes at a time when there is less traffic."
Director of the municipal Department of Transport Trần Quang Lâm said if the project was successful, the service could be expanded to HCM City's other districts, such as District 3, Phú Mỹ Hưng and Thủ Thiêm new urban areas.
The project is prioritised by the city to develop public transport and limit the use of private vehicles. VNS
ENVIRONMENT FRIENDLY: Each bicycle is rented out for 5,000 VND (22 US cents) for 30 minutes. VNS Photo Việt Dũng