FPT and The Gioi Di Dong (MWG) shares saw sharp price increases last week, which put them on the list of enterprises with capitalization value of VND100 trillion.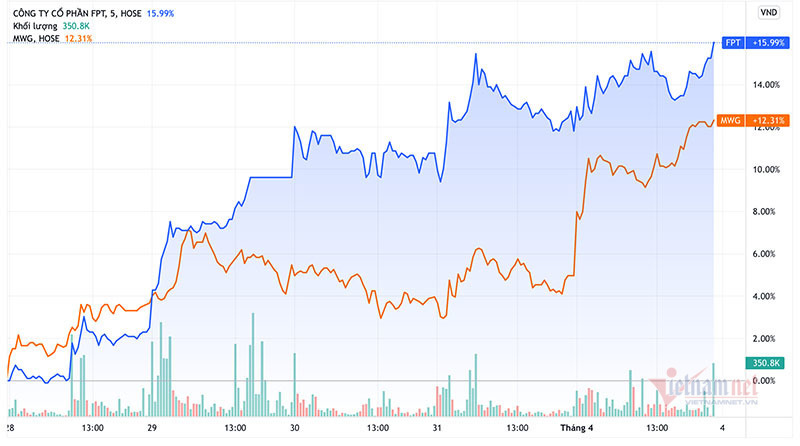 Closing the April 1 trading session, the FPT share price stayed at VND111,000 per share, while its market capitalization value was VND100.738 trillion.
The share price hit the ceiling level on March 29 after exceeding the VND100,000 per share threshold. In the next trading sessions, the share continued climbing to new highs and reached VND111,000 per share in April.
MWG of Mobile World also saw the price hitting the ceiling level at VND156,000 per share on April 1. Over the last two weeks, the share has seen prices increase by 20 percent. Its market capitalization has reached VND114.195 trillion.
FPT has announced impressive business results in 2021 with turnover of VND35.657 trillion and profit of VND6.335 trillion, increasing by 19.5 percent and 20.4 percent, respectively, compared to the same period last year.
FPT's Board of directors is planning to propose A dividend payment of 40 percent, including 20 percent in cash (10 percent was paid in 2021, while the other 10 percent would be paid afterapproval by the general meeting of shareholders), and 20 percent in shares. This will be done prior to the end of Q3 2022.
Meanwhile, in 2021, MWG's net revenue reached VND123 trillion, or $5 billion, an increase of 13 percent over 2020. Of this, online revenue reached VND14.37 trillion, an increase of 53 percent. Its post-tax profit was VND4.9 trillion, up by 25 percent.
MWG plans to obtain revenue of VND140 trillion this year and post-tax profit of VND6.35 trillion, increasing by 14 percent and 30 percent, respectively, compared with 2021.
Vietcombank is now the listed company with the highest capitalization value (VND291.8 trillion, or $12.9 billion). The others include VinHomes, VIngroup, BIDV, PG Gas, Hoa Phat, and AVC which have capitalization of over VND200 trillion. Meanwhile, Techcombank, Masan, Vinamilk, Novaland and Sabeco are among the enterprises with over VND100 trillion worth of capitalization value.
VNM shares of Vinamilk, the biggest dairy producer, are losing their appeal and have been surpassed by other large enterprises. Its capitalization value is VND170.749 trillion. VNM shares continued a downward trend after reaching a 3-year peak in early January 2021.
The stock market ended last week in a state of excitement with the VN Index surpassing the psychological resistance level of 1,500 points.
The April 1 trading session closed with the VN Index at 1,516.44 points, an increase of 17.94 points (1.2 percent) over the week before. Meanwhile, HNX Index fell by 7.65 points (-1.66 percent) to 454.1 points, and the UpCom Index dropped by 0.19 points (-0.16 percent) to 117.19 points.
Duy Anh
Although the current Securities Law includes severe penalties, the number of stock price manipulation cases is increasing, causing great damage to the market and frustration for investors.
Violations by the 2015-2020 State Securities Commission (SSC) Party Committee and its officials were found to have significant implications,