When talking about how digital transformation should proceed in a poor country, Ben Tre provincial People's Committee Tran Ngoc Tam had a practical view: transformation will succeed only if people understand it and get benefits from it.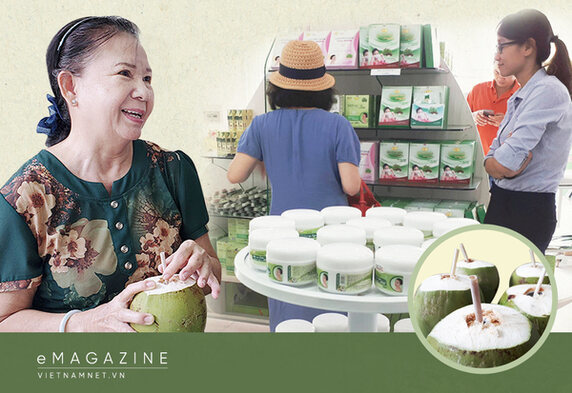 Ben Tre is the capital of coconuts
In an area with simple offices like Ben Tre City, one may be surprised when entering the public administrative service center, which is a professionally and well structured space.
Meanwhile, Ben Tre remains a poor province, ranked 46th in gross regional domestic product (GRDP), 58th in GRDP per capita and 54th in GRDP growth rate.
The modern space, for example, is where farmers can access fast and user-friendly digital procedures.
After checking in with an operation on the touch screen at the entrance door with the assistance of a receptionist, people are guided to the desks that take requests in certain fields. There are representatives of appropriate agencies available who take the requests from people, who then make declarations and wait for results. The issues are dealt with by a digitized process.
All the documents and information taken are transferred to agencies and branches where they are handled in a strict process under strict supervision. The steps of the process and responsibilities of officers are supervised not only by the center, but also by the public, if they want.
Many requests can be dealt within a day. People are informed in a transparent way if they need to submit more documents or if they have to wait to get results.
These achievements were gained thanks to local authorities' strong determination to digitize, with the immediate focus on public administrative services.
Ben Tre is one of the provinces pioneering online public administrative services with nearly 100 percent of services being carried out online.
The achievements were thought not feasible on the first days of implementation. However, thanks to the strong determination by the province's leaders, Ben Tre has jumped to the top of provinces applying digital administrative mechanism.
Tam repeatedly emphasized that the process aims to better serve people and businesses for development purposes.
In Ben Tre, for example, there are many sluices to prevent saltwater. People want the sluices to open to receive freshwater and automatically close when the saltwater reaches a certain level.
They also want to use air sensors and smart street lights throughout the province.
Vo Van Phong is Director of C2T, a travel firm specializing exploiting native resources. His products have strong attachments to waterways and the 'coconut homeland' as people call Ben Tre, but they are very creative and different. His business model won first prize at a competition among startups in 2018.
Phong also approaches clients via digital apps such as Facebook, Zalo, Google and YouTube, but he said he does not spend money to buy 'likes'. Phong has built and exploited a community on his own.
"Data is money," Phong said. "But how will you exploit the data in the most effective way?"
When you run ads on Facebook, you will approach potential clients. But among 1 million people watching your clips, only 100,000 people want to know who posted the clip and what the clip is about, Phong explained.
Of these 100,000 people, only 10,000 people want to know what is being sold. And of the 10,000 people, only 1,000 people want to know how many products are sold, and only 100 people call to ask about tours. Finally, only 10 people book tours.

When Ben Tre provincial authorities started digital transformation, many people thought it was a distant goal. But when people understand what it means and realize they can benefit from this, the transformation process will go quickly.
"All these can be quantified and instructed by digital apps. The problem is that you need to understand how to use the apps," Phong said.
Startups like Phong's are typical examples of technology use in real life that Ben Tre is encouraging.
When Ben Tre provincial authorities started digital transformation, many people thought it was a distant goal. But when people understand what it means and realize they can benefit from this, the transformation process will go quickly.
Making the impossible possible
In 2020, the provincial Party Committee released Resolution 01 on digital transformation in 2020-2025 with the vision until 2030, which says Ben Tre will digitize with three pillars – digital government, digital economy and digital society.
Just within three months, all public services in the provinces moved up to the fourth level.
Ben Tre's Party Committee Secretary Phan Van Mai, mentioned a past meeting with Minister of Information and Communications Nguyen Manh Hung, who urged Ben Tre to digitize.
"Hung said that you need to open the door, show your problems, so that people solve the problems together with you. He advised us to choose a thing to start, such as fourth-level public services," Mai recalled, adding that Ben Tre is digitizing with the support of the Authority of Information Technology Application and has gained great achievements.
Elaborating on the digital transformation plan in 2020-2025, Mai said it focuses on important issues, including mobile payments, e-commerce, goods traceability, remote medical examinations, digital government, smart agriculture, smart tourism, and the application of digital technology to deal with the saline intrusion.
Ben Tre province is improving the competitiveness of the local economy with the digital economy accounting for 10 percent of GRDP (gross regional domestic product).
Its GRDP is VND50 trillion, and if the figure increases by 10 percent, it will have VND5 trillion more, and the added value to be brought by digital transformation will be large after five or 10 years, when the GRDP could reach hundreds of trillion of dong.
Luong Bang
Ben Tre is the homeland of coconuts. It also has shrimp production and the largest seedling gardens in the country. With such treasures, the province could develop these into multi-billion dollar products.
With nimble hands, Do Quang from Ben Tre province can turn long threads of wool into beautiful peach and apricot flowers. His handicrafts are very popular, even though the prices are as high as tens of millions of dong.