The Vietnamese economy as a whole is expected to face some immediate consequences from the Russia-Ukraine conflict, with disruptions occuring now in the export of some electronics and agricultural products to the largest country in the world by area.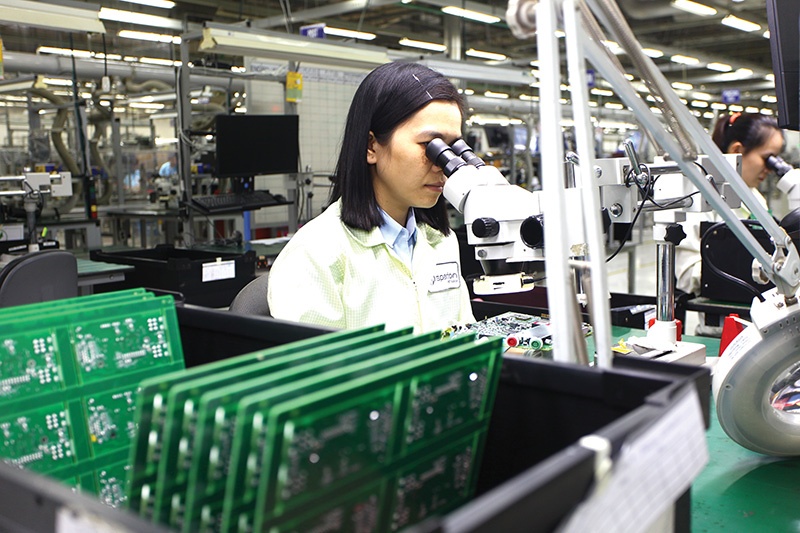 Geopolitical strife often filters down to affecting companies that want to export and import key products, Photo: Le Toan
Over the past two weeks, Phan Minh Thong, chairman and general director of agricultural product exporter Phuc Sinh Corporation, has been like a cat on a hot tin roof as he and his staff had to work round the clock, with one of the key activities being to demand payments from partners. The corporation's annual export turnover averages at over $300 million.
"Annually we earn turnover of $30 million from exporting to Russia, including $3 million directly from this nation and the remaining $27 million indirectly from third nations such as the US, Germany, Spain, Sweden, and Switzerland," Thong told VIR.
"However, all of our transactions, like many other Vietnam-based enterprises', via Russian banks or other foreign banks have transactions with Russia and Ukraine have been completely stopped now. Moreover, all shipping firms of the US and Europe have also refused to export goods to Russia and Ukraine. Losses are very big."
Currently, all export batches of Phuc Sinh are temporarily landed in Singapore and Brazil.
Hong Sun, vice chairman of the Korea Chamber of Business in Vietnam (KorCham), told VIR that a number of its 9,500 member companies in the country will be badly affected by the Russia-Ukraine conflict which began on February 24.
"Exports of mobile phones, electronic products, and spare parts of automobiles from the likes of Samsung, LG, and others have been affected already," Sun said. "One of the biggest impediments now is that they cannot conduct payments with Russian and Ukrainian partners."
Transaction impediments
The US and the EU at the end of February agreed to cut Russian banks out of the SWIFT global payment system as part of the sanctions. Sun noted that Samsung, LG, and Hyundai, which all have a big presence in Vietnam, boast factories in Russia but sanctions and other restrictions could hamper the giants. "Besides that, a number of South Korean firms in Vietnam producing semiconductors and exporting them to Russia and Ukraine have also been hurt by the conflict."
Samsung is investing heavily in Vietnam in many projects. Last month, Samsung Electro-Mechanics in the northern province of Thai Nguyen was licensed to increase its registered capital by another $920 million from the initial $1.35 billion, in a plan to produce camera modules, actuators, touch sensor modules, and linear motors, among others. In 2021 business results, Samsung Vietnam reported $74.2 billion in revenues, up 14 per cent on-year. The group's export turnover hit $65.5 billion, an on-year rise of 16 per cent. And last year, LG Display Vietnam increased capital by an additional $1.4 billion in the northern city of Haiphong, raising its total investment in Vietnam to $4.65 billion.
"Besides that, a number of South Korean firms in Vietnam producing semiconductors and exporting them to Russia and Ukraine have also been hurt by the conflict," Sun added.
Some Vietnamese projects in Russia may be impacted by geopolitical events. Currently, Vietnamese investors are funding 22 projects in Russia, registered at nearly $3 billion. The biggest is TH Group's $2.7-billion concentrated large-scale dairy cow production project, which is currently under construction.
According to experts, the removal of Russia out of SWIFT will have certain impacts on Vietnam-Russia trade ties. In the short term, trade itself will not be hurt, but in the long term, it may have impacts on the psychology and transactions of enterprises that have investment and business activities with those in Russia.
"Due to Russia's removal from SWIFT, both nations' payment transactions have and will not be able to be conducted via this system. This will affect Vietnam's international payment process in general," said Pham Hoang Anh, general director of the Academy of Finance's Institute for Banking Science.
However, Le Quoc Phuong, former vice director of the Ministry of Industry and Trade's Vietnam Industry and Trade Information Centre, commented that the Russia-Ukraine conflict will not have remarkable impacts on trade and investment cooperation between Vietnam and Russia, as well as between Vietnam and Ukraine, because cooperation has not been widespread compared to that of other nations.
Hurdles for trade
Though Vietnam and Russia are both members of a free trade agreement that also involves Armenia, Belarus, Kazakhstan, and Kyrgyzstan, Russia is not a big trade partner of Vietnam. In 2021, total export-import turnover between Vietnam and Russia reached $7.3 billion, including $4.5 billion earned by Vietnam's exports, or only 1.33 per cent of the Southeast Asian nation's total export value of $336.31 billion.
"Conflicts and embargoes will slow down Vietnam's exports to Russia, leading to a rise in transport costs. Moreover, when the ruble is depreciated, Vietnam-based exporters' revenue and foreign currency sources will also be affected," Anh said.
Nguyen Do Anh Tuan, director of the Department of International Cooperation under the Ministry of Agriculture and Rural Development, said that Russia has been a market of substantial promise for Vietnamese agriculture. "This conflict will significantly hurt Vietnam's agricultural exports to Russia and its imports, and payments will be hard to conduct," Tuan said.
Vietnam's main exports to Russia have included seafood, vegetables, fruits, nuts, coffee, tea, pepper, rice, handicrafts, rubber, furniture, footwear and electronics. Vietnam imports from Russia large amounts of wheat, fertiliser, oil and chemicals, pharmaceuticals, steel and heavy machinery.
According to the General Department of Vietnam Customs, last year Vietnam spent $143.5 million importing over 386,000 tonnes of Russian fertilisers.
Truong Dinh Hoe, general secretary of the Vietnam Association of Seafood Exporters and Producers, said that Vietnamese seafood exporters will find it hard to conduct business in Russia and Ukraine. Hoe said that any relevant Vietnamese firms should find solutions to diversify their markets and make financial preparations as transportation costs may increase higher. Vietnamese seafood exports to Russia last year grew 21 per cent on-year.
The number of Vietnamese firms licensed to export aquatic products to Russia doubled to 50 in 2021. As of late November, Vietnam's aquatic exports to Russia hit $150 million.
Vietnamese Ambassador to Russia Dang Minh Khoi last week had a working meeting with Russian First Deputy Speaker Andrey Yatskin and Deputy Speaker Konstantin Kosachev of the Russian Federal Assembly's Federation Council to discuss both countries' strengthened cooperation in the current situation.
Their discussion was focused on solutions to further enhance the Vietnam-Russia bilateral ties in economy-trade, tourism, and people-to-people exchange.
Both sides underlined that Vietnam and Russia regard each other as a reliable partner and a priority in their respective foreign policies. They are looking forward to celebrating the 10th anniversary of their comprehensive strategic partnership this year.
In 2021, the two countries enacted new measures to assist investment and trade ties. For example, Vietnam and the Russian Direct Investment Fund (RDIF) have been seeking measures to increase investment cooperation, including the fund's plan to promote and support direct investment between the two countries, and also with third nations.
Such investment aimed at cashing in on benefits from the Vietnam-Eurasian Economic Union Free Trade Agreement which became valid in 2016.
The RDIF is Russia's $10 billion sovereign wealth fund established in 2011 by the Russian government to make investments in leading companies in high-growth sectors of the Russian economy.
A list of 17 projects had been earmarked for joint implementation in oil and gas, transport, agriculture, electricity, construction, industry, and high technology.
According to the Ministry of Planning and Investment, as of February 20, Russia had 151 valid investment projects in Vietnam, registered at $953.7 million, mainly in oil and gas, manufacturing, mineral exploitation, transport, telecommunications, and fisheries.
Source: VIR
If the Russia-Ukraine crisis causes disruptions in oil and gas supply and high oil prices, it will affect Vietnam's economic growth.
The Russia-Ukraine crisis and economic sanctions by some countries against Russia will have a profound impact on the global economy, including Vietnam, especially on the import and export of agricultural, forestry, and aquatic products.