Many banks made a high profit in 2021 thanks to high lending interest rates. However, they have been warned of 'making a rod for their own back'.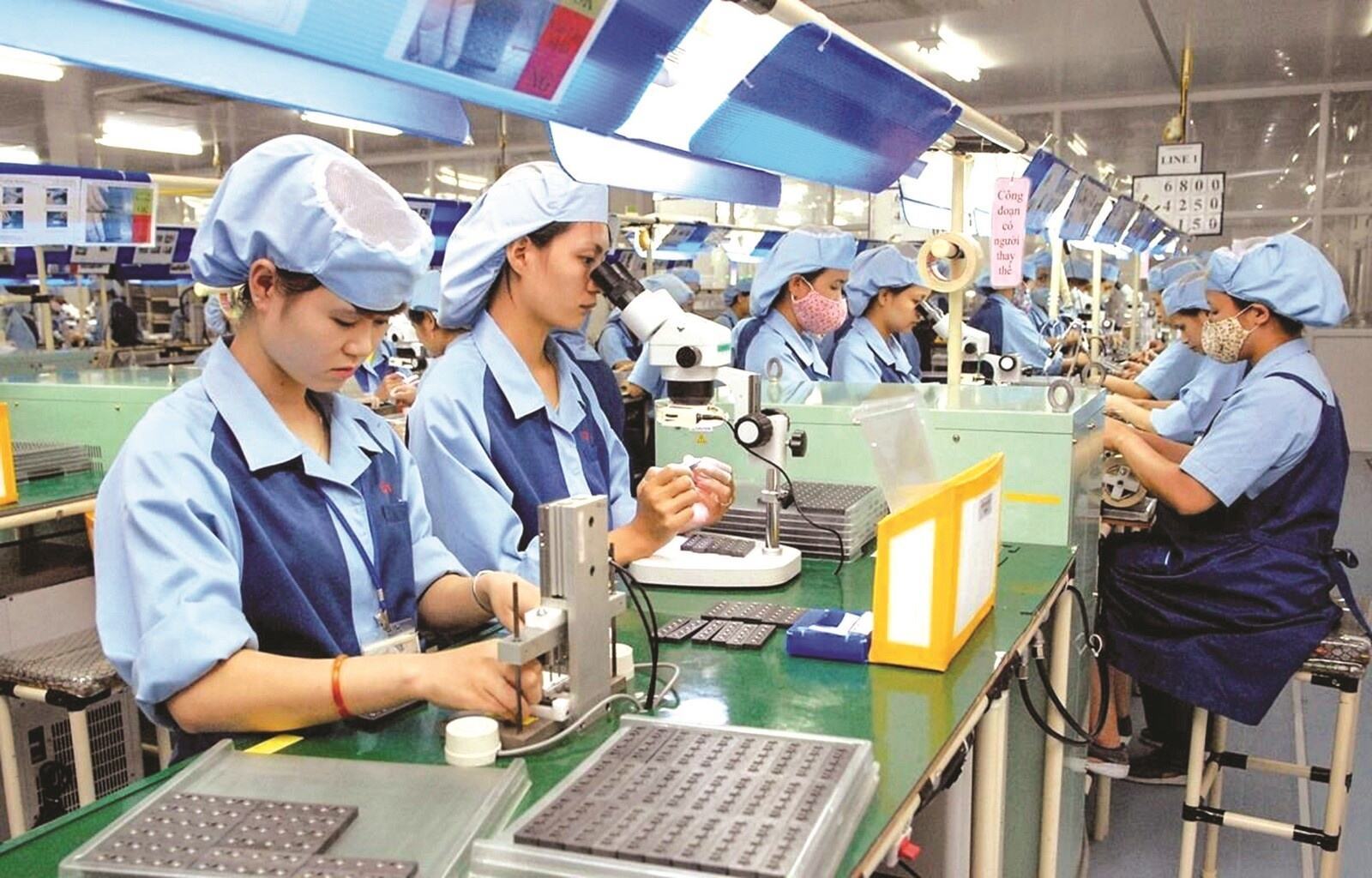 Bank loans inaccessible to businesses
According to the State Bank of Vietnam (SBV), the central bank has lowered interest rates three times, by 1.5-2 percentage point per annum for regulating interest rate and 0.6-1 percentage point for ceiling interest rates of less-than-6-month deposits, paving the way for commercial interest rate cuts.
However, this only helped reduce lending interest rates by one percentage point in 2020 and 0.7 percentage point in 2021. Businesses, hit hard by the pandemic, still had to borrow money at high interest rates, though the rates were lower than in pre-pandemic time.
In fact, lending interest rate reductions have only been applied to certain groups of clients and borrowers had to satisfy a lot of requirements. Particularly, joint stock banks have just reduced interest rates 'in dribbling and drabs'.
A survey found that lending interest rates were still relatively high and the 7-8 percent interest rates remained inaccessible for the majority of businesses.
Businesses had to pay VND8.5-9 percent for six-month loans in 2021, 9-9.5 percent for nine-month loans and 9.25-9.75 percent for 12-month loans.
The interest rates were not stable and they could be adjusted once every three months and the real estate interest rates were the initial interest rates plus amplitudes. So, the average lending interest rate was 9 percent at least for 6-month loans.
These interest rates were unbearable for businesses that have had to struggle to survive during the pandemic.
The high lending interest rates are unreasonable, if noting that the deposit interest rates had been reduced to very low levels, just 4-5.5 percent by mid-2021, which means that banks had to pay lower for capital mobilization costs.
Many commercial banks kept interest rates unchanged in the entire year of 2021 and the interest rates applied since August 2020 are still valid. Analysts point out that easing interest rate was not a policy applied on a large scale but only to small groups of clients who can bring long-term benefits to banks.
On July 15, 2021, 16 large commercial banks which provide 75 percent of total outstanding loans to the economy agreed on slashing lending interest rates until the end of 2021, worth VND20.6 trillion.
According to the central bank, from July 15 to October 31, 2021, the total interest cut by the 16 banks was VND15.559 trillion, or 75.48 percent of committed amount. However, the sharpest cuts were by four state-owned banks (VND12.663 trillion), accounting for 81.4 percent of the interest cuts. Meanwhile, the figure was just VND2.869 trillion for 12 private banks.
Businesses, associations and National Assembly Deputies have repeatedly asked commercial banks to share difficulties with businesses by easing lending interest rates.

If businesses take insurance policies sold by banks, they will get higher marks, which make it easier to access bank loans. In other words, businesses need to take insurance policies if they want to borrow money. If not, their proposal for loans may be ignored.
However, they have been ignored. Some businesses said the interest rate cuts were insignificant, just 0.1-0.3 percentage point. For loans with interest rates of over 10 percent, the 0.1-0.3 percent cut does not have much significance.
Tie-in sales
Some businesses have even 'denounced' banks for seeking additional profit by forcing them to take out insurance when borrowing money from the banks.
A report found that many banks could make a profit of hundreds of billions of dong worth of commissions from selling insurance policies.
In general, banks will decide whether to lend to businesses after 'marking' the businesses. If businesses take insurance policies sold by banks, they will get higher marks, which make it easier to access bank loans. In other words, businesses need to take insurance policies if they want to borrow money. If not, their proposal for loans may be ignored.
Businesses have also criticized banks for keeping high lending interest rates, which bring fat profits, though businesses are exhausted because of Covid-19.
According to BIDV (the Bank for Investment and Development of Vietnam) Securities, revenue and pre-tax profits of the entire banking system in 2021 were VND406.694 trillion, up by 16.7 percent over the previous year, and VND163.846 trillion, up by 24.2 percent, respectively.
Analysts pointed out that the high profits are attributed to capital cost decrease than a lending interest rate decrease, which helped widen NIM at most banks. The revenue from bank service fees, especially bancassurance, also made a big contribution to banks' profits.
A survey conducted by the Vietnam Chamber of Commerce and Industry (VCCI) of large businesses in August 2021 found that the support package on capital and credit, launched in early 2020, brought modest effects.
Only 30.72 percent of businesses could access the package, of which 0.65 percent said the package satisfied their requirements, while 25.49 percent were 'partially satisfied' and 4.6 'very little'.
Analysts have warned that commercial banks may fall into their own trap if they continue to set high interest rates. If businesses have to borrow money at high interest rates, their businesses will have problems and many enterprises will go bankrupt, thus leading to bad debts at banks.
SBV estimated that total bad debts by 2021 may reach 8.2 percent and the figure may keep rising if pandemic developments remain complicated.
A banking expert told VietNamNet that banks reported high profits for 2021 but risks exist. Currently, banks still don't have to make provision against risks for the debts that SBV allowed to restructure. If they have to make provisions in the time to come, the profits may decrease.
Tran Thuy
In October, the average interest rates on bank deposits for six months and 12 months were 4.7 per cent and 5.5 per cent, down half a percentage point from a year earlier, according to Bao Viet Securities Company.
With exorbitant interest rates and gangster-style debt chasing, black credit has become a burning issue. The police have also warned that Vietnam may become a destination for foreign usurers.