Cash has been flowing to bank shares amid the VN Index decline and the sale of shares in other business fields.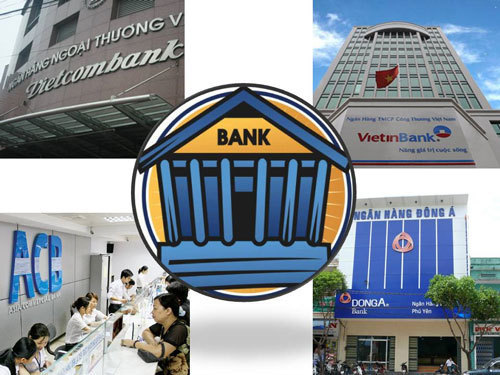 The stock market witnessed a sharp fall in the first trading session of the week with the VN Index losing 33 points. Analysts say the decreases would have been even sharper if bank share prices had not increased.
Despite the strong selling pressure in the market, bank shares still attracted cash flow. Many bank shares have reached new historic peaks.
Vietcombank, for example, saw the price increase by VND3,800 to VND93,000 per share. During the first trading session of the week, the share climbed to VND93,500 per share, officially breaking the record made in mid-2021.
As such, Vietcombank share price increased by 18 percent year to date. Meanwhile, BIDV shares price once reached VND48,500 per share, an increase of 30 percent.
VietinBank, MBBank, Techcombank and ACB also maintained an upward trend at the session amid the sharp fall of the market.
Techcombank, the bank owned by billionaire Ho Hung Anh, has released its Q4 2021 finance report which shows its pre-tax profit of VND23.2 trillion, or $1 billion, an increase of 47 percent over 2020. Its NIM is 5.6 percent, higher than the 4.9 percent of 2020.
Techcombank is the second bank obtaining profit of over $1 billion in Vietnam. The first was Vietcombank in 2020.
Prior to that, bank shares underwent a period of slowdown in H2 2021, when bank shares could not keep up with the upward trend of the market as investors thought banks' business performance would be bad because of Covid-19 and that bad debts would increase.
Contrary to investors' predictions, the banking sector has been performing well with assets being well managed thanks to the tight credit control policy.
The World Bank has predicted that Vietnam's economy will continue to recover in 2022 with the GDP growth rate of 5.5 percent and the country will regain the high growth rate from 2023. Bank shares, or 'King shares' called by Vietnamese, are expected to see sharp increases after a period of going flat.
GDP growth means bank credit growth, and revenue and profit of commercial banks will improve.
Analysts believe the economic stimulus package of VND350 trillion which has been approved by the National Assembly will have a good impact on the banking sector.
Also, SBV's (State Bank of Vietnam) Direction No 02 on the digital transformation of the banking sector based on 4.0 technology and contactless payment system will help banks better control capital flow and restrict the use of capital for wrong purposes, thus helping reduce bad debts.
V. Ha
Bank shares continue to attract cash flow. The VN Index has climbed to new highs, exceeding the 1,500 point benchmark.