Bamboo Airways on February 16 inked a memorandum of understanding (MoU) with SR Technics and an agreement with Boeing Digital Solutions, and discussed the purchase of the aerospace company's new aircraft.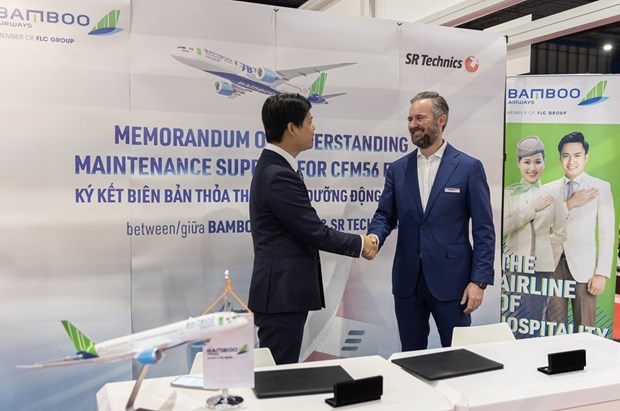 At the signing ceremony between Bamboo Airways and SR Technics (Photo courtesy of the carrier)
The signing ceremony was held within the framework of the ongoing Singapore Airshow 2022.
Under the MoU on CFM56-5B engines maintenance worth 60 million USD with SR Technics – the world's leading MRO provider (Maintenance, Repair, and Overhaul), both parties will explore areas of cooperation related to CFM56-5B engines, training services, technical services, and component requirements, the airline said in a press release.
By signing the MoU, SR Technics and Bamboo Airways will establish a long-term partnership.
"With the prestige and experience of SR Technics, we strongly believe the agreement on selection of SR Technics' engines and other maintenance for Bamboo Airways' fleet will help enhance our operation capacity, service quality as well as competitiveness on potential international flight routes in the future," said Nguyen Khac Hai, Deputy General Director of Bamboo Airways.
SR Technics CEO Jean-Marc Lenz said the partnership will impact the growth and strengthen Vietnam's competitive position in serving the worldwide aviation MRO industry.
Meanwhile, Bamboo Airways' agreement with Boeing focuses on four digital solutions for its entire fleet, which will continue to help the airline drive efficiency and reduce operating costs.
Digital analytics solutions allow airlines to operate with the utmost safety and information accuracy, and reduce possible risks.
The same day, the carrier has discussed with Boeing and expressed its interest in purchasing the latest fuel-efficient wide-body Boeing 777X, in an attempt to expand its presence in Europe, Australia, and the US.
Source: VNA
Budget airline Bamboo Airways on December 17 announced its plan to operate a direct air route between Vietnam and Australia.
Bamboo Airways' first flight on its direct route between Vietnam and the US landed in San Francisco, the US, on September 23 (local time) after 13 hours and 36 minutes of nonstop flight.