Contrary to all predictions, Chinese cars continue to flow into Vietnam and sales have been increasing steadily, despite Covid-19 and the poor reputation of Chinese brands.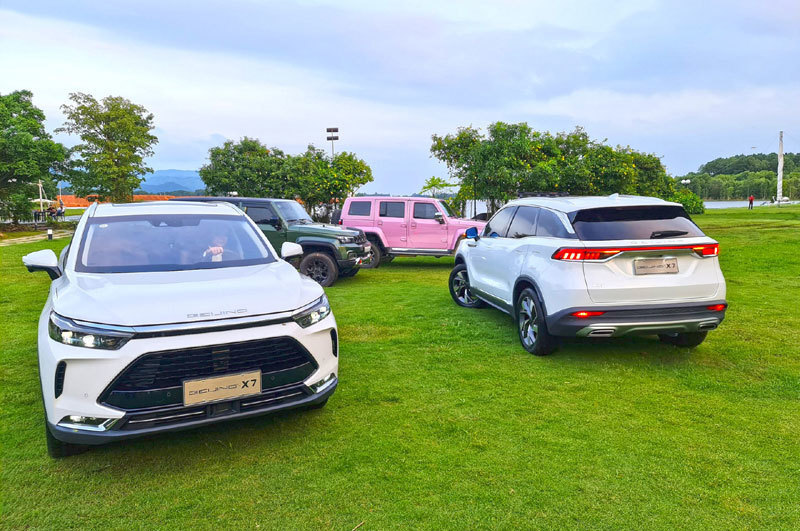 Among sedan brands, MG is the leader in sales with 3,770 products sold in 2021, followed by Baic with 1,442, while the figures were 34 for Zotye and 14 for Dongfeng.
The 'high jump' by Baic has caught public attention. Baic distributes four models in Vietnam, including Q7 with the selling price of VND658 million; Beijing X7 with three versions, priced between VND528 and VND688 million; and BJ40L VND938 million and X55 VND528 million.
Of these, Beijing X7 was the best seller. The model was only introduced in Vietnam in late Q3 2020 and 500 products were imported by the end of the year. The imports continued to increase in 2021.
Explaining the sales increases, an enterprise said the pandemic caused many people to have financial difficulties but they still wanted to buy cars, and Chinese cars, which are cheaper than European, Japanese and American products, became a reasonable choice.
Most of the models imported to Vietnam have prices between VND500 million and below VND700 million. Chinese cars use engines and gear boxes of BMW, Volvo and Mitsubishi, but are older by one generation, with some adjustments. Meanwhile, other important parts are sturdy, including the chassis. Manufacturers equip their cars with many modern features.
Analysts say Chinese cars can satisfy many requirements of Vietnamese buyers: they are well designed, equipped with many technologies, and are cheap.
According to an automobile manufacturer, while cars made in Thailand have production costs 20 percent lower than in Vietnam, the cars made in China have production costs 20 percent lower than Thailand.
Nguyen Minh Dong, a respected automobile manufacturer, said a Chinese-branded model made entirely by Chinese, including the engine and gear box, like the Beijing X7, was launched into the Vietnamese market after 15 months and had sales of over 1,500.
Trial of strength
Following the success, new car models have been introduced in Vietnam since the beginning of the year. These include the Beijing U5 Plus, a C-class sedan, with three versions and the selling prices of VND398-498 million. The product looks flashy and youthful with a lot of amenities, including automatic full-LED lights, 12.3 inch screen for entertainment, electronic handbrakes, a 360o camera and others.
Hongqi, a luxury brand of FAW, has been introduced in Vietnam with a petrol engine or electric motor. H9 Hongqi petrol-run products are priced at VND1.5-2.7 billion, while Hongqi E-HS9 electric cars are VND2.8-3.7 million.
Hongqi H9 has raised controversy as it's easy to recognize the designs borrowed from Mercedes Maybach and Rolls-Royce, with some similarity to the US's Cadillac. The model is developed based on an Audi A6L chassis, using 2.0 engine or V6 3.0L.
The cars are equipped with touchscreens and are full of amenities. Hongqi E-HS9 uses two electric motors with the total capacity of 550 horse power. The car can run 510 kilometers at maximum on each charge.
The car model will enjoy vehicle registration tax exemption and from March 2022, the luxury tax will fall to 3 percent.
According to an importer, Hongqi H9 has caught the highest attention from clients. The car model size is nearly the same as Mercedes Benz E-Class and Volvo S90 2022 which have been introduced in Vietnam, but the prices are lower.
However, the importer puts his highest hope on the Beijing U5 Plus, as the model is cheap and has a lot of options.
Though they won't sell as well as South Korean and Japanese cars, car dealers still believe that Chinese cars, which have a wide range of choices, good designs and technologies, will attract customers.
However, an analyst said it's still too early to think that Chinese cars will have a bright future in Vietnam. In general, Vietnamese people don't favor Chinese brands and think that Chinese technologies are not good.
He said Chinese cars always catch the attention from the public when they are launched as they have low prices and good appearance, but they later lose popularity.
Most Vietnamese people still doubt the quality of Chinese cars. Even Chinese car owners are not sure about the durability and reliability of Chinese products.
Tran Thuy
Chinese car brands made a breakthrough in 2020 when their cars began selling well in Vietnam, which had never before favored products from China.
Despite slow sales, Chinese auto manufacturers have never given up the ambition to penetrate the Vietnamese market.