In addition to pandemic control and recovery, ASEAN has also updated digital transformation, green economy, clean economy, clean sea…
In the second part of the talk with VietNamNet, Ambassadors Pham Quang Vinh and Hoang Anh Tuan mentioned the attractiveness of ASEAN in the process of pandemic control and economic recovery.
Mitigate pandemic impact
How do you assess the overall recovery framework ASEAN has been implementing to minimize the socio-economic impacts caused by the pandemic?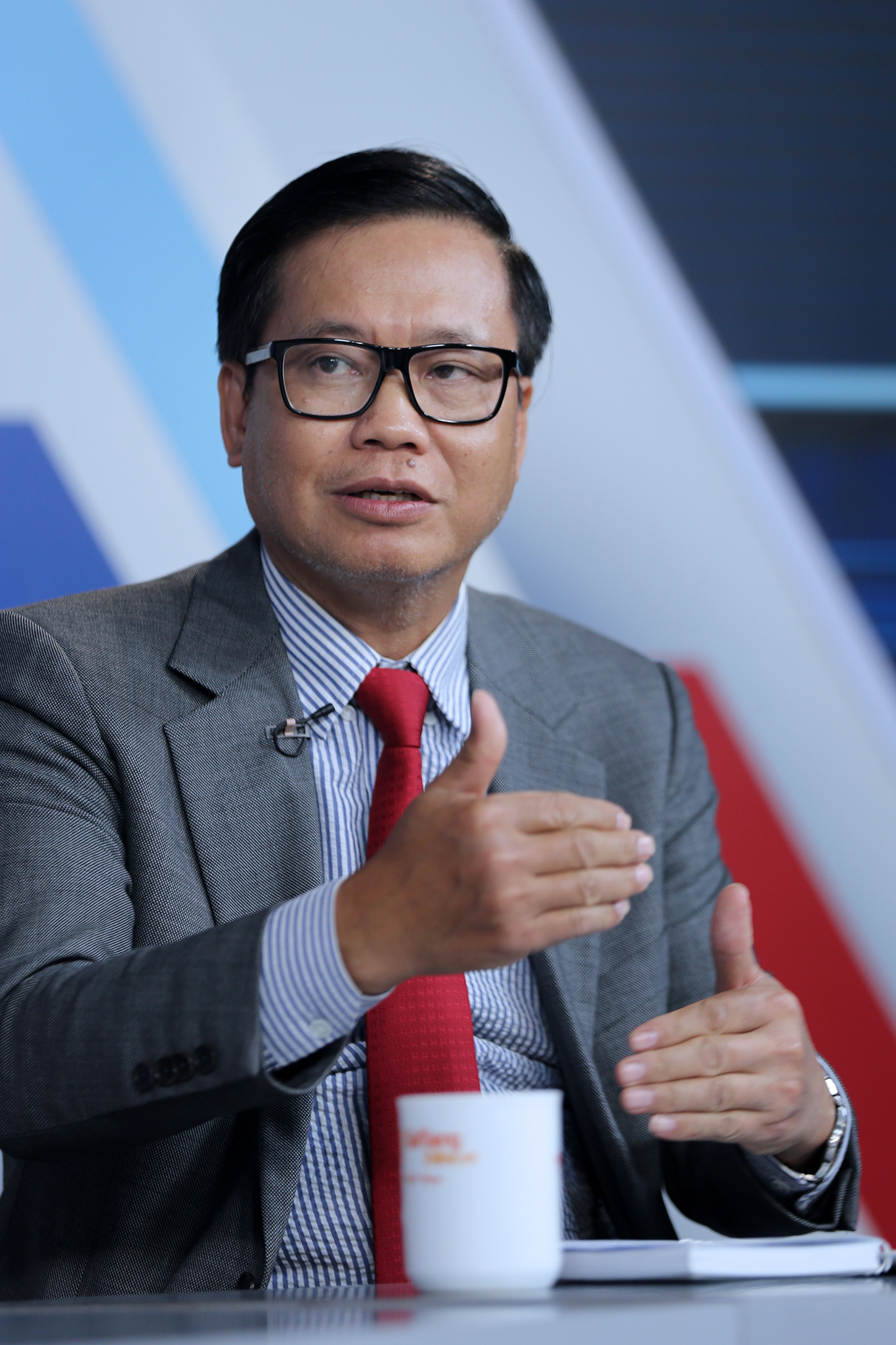 Ambassador Hoang Anh Tuan.
Ambassador Hoang Anh Tuan: The overall framework has three phases: opening up, economic recovery, resilience and five priorities. Regarding the five priorities, ASEAN first emphasizes health, followed by human security, the factor of sustainable development, coordination and finally the factor of self-reliance. The key is that ASEAN must be self-reliant and work together to overcome the pandemic.
Ambassador Pham Quang Vinh: ASEAN formed an overall recovery framework in 2020 and kept implementing it in 2021, but how we will actually come out of the epidemic, control it and recover poses many difficulties. Each country has a different level of epidemic and different response strategy. The problem is how to better control the epidemic in the whole region, to avoid disruption of the supply chain, and how to open and connect within the region.
Could you talk more about the economic initiatives that ASEAN has launched to ensure an interconnected supply chain?
Ambassador Pham Quang Vinh: This refers to the association within ASEAN and the association of ASEAN with partners. Initiatives on regional economic cooperation create a huge new economic space in which countries can cooperate with each other, including the active role of ASEAN.
In addition to pandemic control and recovery, ASEAN has also updated a lot of new things such as digital transformation, green economy, clean economy, blue sea, clean sea… There are many initiatives on normal trade and economic arrangements, ie reducing tariffs, increasing trade facilitation, and also new initiatives including digital transformation, e-commerce, green economy associated with environment and climate change…
For economic recovery, how should the recognition of vaccine passports and travel mechanisms between ASEAN countries be established to avoid disruption of labor flows, logistics system and the supply chain?
Ambassador Hoang Anh Tuan: ASEAN is facing challenges but also has many opportunities, especially in terms of digital transformation and green development. The pandemic has created pressure both inside and outside, creating favorable conditions for promotion of this transformation.
ASEAN has discussed vaccine passports to facilitate movement, first for experts, but final results have not reached yet. Firstly, we are living in an era of globalization, so disease control must be a global story. As long as there are areas in the world that are not safe, and people who have not been vaccinated, we cannot feel absolutely safe. Thus, ASEAN cannot discuss its own story, i.e., the vaccine passport for the region, and separate it from the general context of the world.
Secondly, epidemics in ASEAN countries also have different stages and levels, leading to different control and response policies of each ASEAN country. That explains why ASEAN has not come to a consensus on this issue.
We can apply the successful experience of some countries and multiply in the region. Although it is difficult to reach consensus among all 10 member countries, it is possible that some ASEAN countries, especially key members of supply chains, need to pioneer and lead this process.
Close the development gap
After the pandemic, how will the gap between ASEAN countries in terms of infrastructure, digital transformation process and quality of labor be narrowed?
Ambassador Pham Quang Vinh.
Ambassador Pham Quang Vinh: The pandemic has exacerbated problems and challenges for each country. But ASEAN has always had unequal development in terms of infrastructure, economy, income, environment, sustainable development…
Digital transformation is being pushed strongly, being the driving force for growth and development of the future. If, because of this pandemic, any country fails to catch up with the digital transformation process, the gap in digital economy and digital technology will increase.
Secondly, the region and the world are facing many crises, including climate change and environmental crises, which means that the requirement for sustainable development becomes very important. If a country keeps using labor and less-developed technology while others have switched to green technology, it will fail to catch green financial resources for development.
What should ASEAN do to close this gap?
Ambassador Hoang Anh Tuan: I think the most important thing is that ASEAN has to grasp the very fast-moving trend in the world. I just emphasize more on digital transformation – this is the fastest way for ASEAN to catch up with the world and narrow the gap. Any country that has a fast, strong and right digital transformation process, focusing on sustainable development, green development… is likely to catch up with the world and narrow the gap with other countries.
It is clear that ASEAN has a certain attraction in the process of digital transformation, in prospects for an economic recovery. How do you evaluate the attractiveness of ASEAN today?
Ambassador Pham Quang Vinh: For a long time, it has been said that ASEAN is attractive, has a large market, with a large population, a large total trade value… But now, in the pandemic, what is the new attraction…
Firstl, the Asia-Pacific remains an important geo-strategic and geo-economic region, and it seems that key partners are all paying attention to this region. This is a chance.
Secondly, each ASEAN country and the whole ASEAN economy is an important link in the global supply chain. We are waiting for new investment flows.
Thirdly, the region continues to promote linkages, not only within the bloc but also with partners. The attraction is when partners see this region as a profitable, safe and sustainable investment place.
After the pandemic, countries will change their development models, with special emphasis on changing governance models, green and sustainable development and digital transformation. If each Southeast Asian country and the whole ASEAN catch up with digital transformation, change the governance model and green development, they will have a very strong development opportunity after the epidemic.
What can you say about the future of the region?
Ambassador Hoang Anh Tuan: We live in a world where a lot of variables can happen and we need to be adaptive and flexible. The region has been and will be undergoing drastic changes due to Covid-19. Also because of the pandemic, ASEAN can see that it has great potential, but there are still many fragile and vulnerable points. That means ASEAN has internal problems.
Despite many difficulties, ASEAN has handled a number of issues during the pandemic quite well. The most obvious story is the adaptation, revival and resilience of ASEAN. For example, although it started vaccination against Covid-19 a bit slow, ASEAN currently has the fastest vaccination pace in the world. Many countries in the region have gradually opened up to the outside to continue the economic recovery process.
ASEAN handles well its internal issues, such as the East Sea conflict or Myanmar, promoting relations with major countries and external partners when many regional and international organizations have to limit their activities. That shows ASEAN will recover quickly and strongly when the pandemic is under control. ASEAN will send a message to the world: we are still an attractive destination.
VietNamNet
Two senior diplomats talk with VietNamNet about the topic "ASEAN recovers after the pandemic".