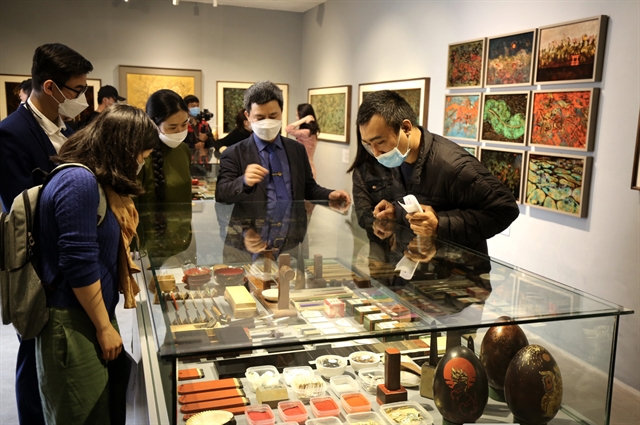 Artist Triệu Khắc Tiến (centre) introduces lacquer supplies to the exhibition visitors. Photo courtesy of Japan Foundation Centre
HÀ NỘI — Vietnamese artist and lecturer Triệu Khắc Tiến tells a story about the connection between the lacquer cultures of Việt Nam and Japan through his lacquer paintings.
The paintings are on a display at an exhibition entitled Câu Chuyện Phương Đông (The Oriental Tale) at the Japan Foundation Centre in Hà Nội.
It offers art lovers a glimpse into the delicate and special techniques of lacquer painting of both countries and a deeper understanding of how these two cultures of lacquer art are influenced by each other and integrated into one beautiful work.
Tiến displays some of 30 lacquer paintings and art supplies at the exhibition.
His oriental tale leads the exhibition visitors into a place of calm and equanimity with paintings entitled Happiness; Homeland; Moonlight; Twilight;Oriental Tale 1; Oriental Tale 2 and others.
The painting Oriental Tale 1 is from a series of his doctoral graduation works at Tokyo University of the Arts.
The exhibition The Oriental Tale is showing some of 30 lacquer painting by artist Triệu Khắc Tiến. VNS Photo Nguyễn Bình
He uses Japanese lacquer techniques of toghidashi-makie; tate-nuri and hakue and Japanese natural lacquer tree to feature a geisha in traditional kimono wearing exquisite jewellery.
Tiến created the painting Homeland this year. The painting reminds people about the homeland where they can find peace and encouragement. It depicts a scene of a northern rural village with the image of the old mother, a kite, bamboo bush and grass.
"The exhibition is a milestone to capture people's attention, not only Vietnamese but also international visitors," said Aris umi Mitamura, Honorary Professor and former head of the Urushi Department at Tokyo University.
"Tiến is skilled in combining lacquer culture between Việt Nam and Japan."
Tiến is currently a Deputy Dean of the Painting Department at the Việt Nam University of Fine Arts. He received a Ph.D of Urushi Art at Tokyo University of the Arts in 2017. He has held exhibitions in South Korea, Expo 2020 Dubai, Taiwan and mainland China.
The Oriental Tale is a summary of his personal creative journey full of sublime emotions. It is also his reflection of a fortunate opportunity to be immersed in the exchange between two long-standing lacquer cultures of Việt Nam and Japan.
"To me, lacquer is a powerful visual language that always contains unique elements of surprise," Tiến said.
"It is a combination of the rigorous drawing process with improvisations in the coating-grinding process, and of the abstract and the tangible. It is like an illusion on a mysterious, silver and gold shimmering background."
Following in the footsteps of masters and generations of painters who are passionate about lacquer, Tiến has continued to evolve in the process of studying and training along with arduous experimentation at Tokyo University of the Arts with a major in traditional Japanese lacquer, according to the exhibition curator Nguyễn Thế Sơn.
""The exhibition is perhaps both a summary of his studying, researching and experimenting diligently to localise the specific techniques of the traditional Japanese lacquer with high quality Vietnamese lacquer material," said Sơn.
"At the same time, it is also the beginning of a journey marking new steps in recent works while trying to combine the sophistication and meticulous detail required of an artisan with new and expressive abilities in the visual language of an artist."
The exhibition runs until April 22 at 27 Quang Trung Street, Hà Nội from 9am to 6pm daily. VNS