The FLC ecosystem is not large in scale and has a small influence on the market. Bamboo Airways of FLC has insignificant impact, but it has been operating effectively.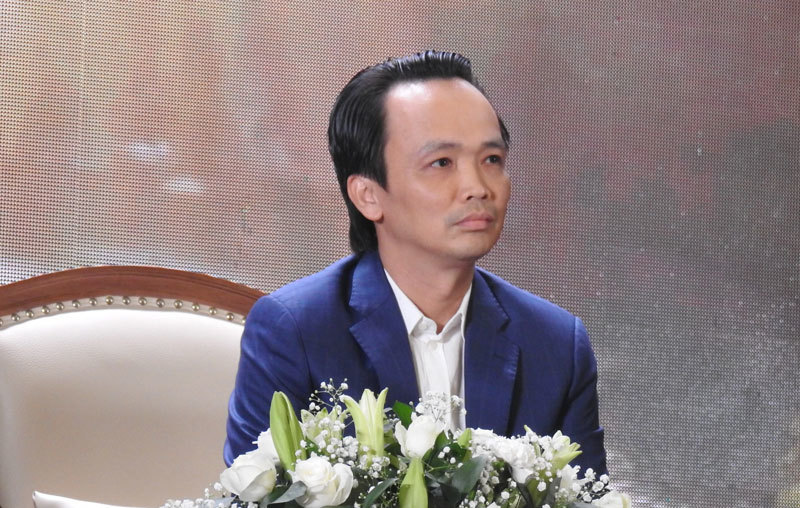 FLC Group Chairman Trinh Van Quyet
The VN Index increased again on March 29, 2022 after falling by 15 points in the previous trading session because of bad news related to FLC Group Chair Trinh Van Quyet.
On March 29, the Ministry of Public Security reported that it had decided to file charges against Quyet and detained him to conduct an investigation of alleged stock market manipulation.
Shortly after that, FLC announced that Vu Dang Hai Yen, Deputy CEO of FLC Group, was authorized to work as acting chairwoman of the Board of Directors at FLC and Bamboo Airways.
Quyet also authorized Yen to perform all rights related to his assets and property rights under his ownership.
The information raised concerns among investors that the share prices related to FLC would plunge and have a big impact on the stock market.
However, many experts think the 'FLC big bang' won't have much affect on the stock market.
Huynh Minh Tuan, founder of FIDT, believes that the influences in the case on the stock market are inconsiderable because the business scale of FLC is small, except for Bamboo Airways (BVA) whose figures are not exposed because it is not a public company.
According to FIDT, the total revenue of the FLC ecosystem is roughly VND13 trillion, or $500 million, which is just equal to 0.014 percent of Vietnam's GDP. Its total debts, both short- and long-term, are about VND8.4 trillion, not including BVA, or $360 million, a very small figure compared with the total debt of 11 quadrillion of the entire economy.
Banks
Regarding Bamboo Airways, there are not enough figures to assess its outstanding loans and capital scale. However, BVA has relations to banks which provide loans mortgaged by BVA shares, including STB (VND1.84 trillion) and OCB (VND1.4 trillion).
The banks have to make provisions against risk in accordance with their risk management standards in case of emergencies, such as the CEO or president is sent to prison. All loans have to be evaluated and additional collateral increased to raise the the safety co-efficient. BVA shares have also been mortgaged at Nam Viet Bank.
Most aircraft used by BVA is leased as purchase agreements have not been reported. The assets don't belong to BVA and have no outstanding loans with Vietnam's banks.
It's estimated that the total debts of the entire system of FLC Group is about $1 billion, of which 60 percent is considered safe as BVA has been operating well, according to FIDT.
As such, the risk in this case is low and the 'snowball effect' won't occur.
Two groups to bear influences
Regarding the effect on the stock market, according to FIDT, two groups influenced in this case include members of the FLC ecosystem, AMD, KFL, ART, ROS and GAB. The sale is inevitable and BVA prices will plunge in the OTC market.
The second group is commercial banks that provide loans to FLC, including STB, OCB, BID and NVB
The bad debts of the banks, related to the FLC case, are relatively small compared with their total assets.
As for the entire market and the other groups of investors, the case has no relations.
FIDT believes that in the long term, the stock market is still very healthy.
Vietnam has seen similar cases, where key personnel were sent to prison, but the stock market still ran well.
Meanwhile, the arrest of individuals who commit violations shows Vietnam's strong determination to 'clean' the market and will encourage investment capital to flow into the stock market, which serves as an effective tool to mobilize medium- and long-term capital for businesses.
The shares of the businesses that operate well and are transparent will benefit after the case.
An analyst said that the handling of FLC case will 'score a point' in the eyes of foreign investors which shows that the Vietnamese market is transparent, setting up bright prospects for the upgrading of the stock market in the near future (2024-2025) as obstacles have been removed. Vietnam has appeared as a 'clean' investment environment, where investors are protected well.
On January 10, Trinh Van Quyet unexpectedly registered to sell 175 million FLC shares from January 10 to January 17. The purpose, according to Quyet, was to restructure his assets.

Before the transaction, Quyet had held 215 million FLC, or 30.34 percent of charter capital.

On January 11, HOSE released a notice on the cancellation of the transactions of selling 74.8 million FLC shares on January 10 as per a request from SSC. This was because Quyet did not report and expose information before the transaction.

On January 18, SSC imposed a fine of VND1.5 billion on Quyet and stopped his transactions for five months.
V. Ha
The Ministry of Public Security's Investigation Police Agency on March 29 decided to launch criminal proceedings against and arrest Trinh Van Quyet, Chairman of the FLC Group, pending investigations into suspicion of stock market manipulation.
After the Ministry of Public Security issued a decision to prosecute Mr. Trinh Van Quyet, Chairman of FLC Group yesterday, Quyet authorized Deputy General Director Vu Dang Hai Yen to replace his position in the group.