Among the vaccines developed by Vietnamese companies, NanoCovax is considered the one that can 'go far', though the end point is unclear.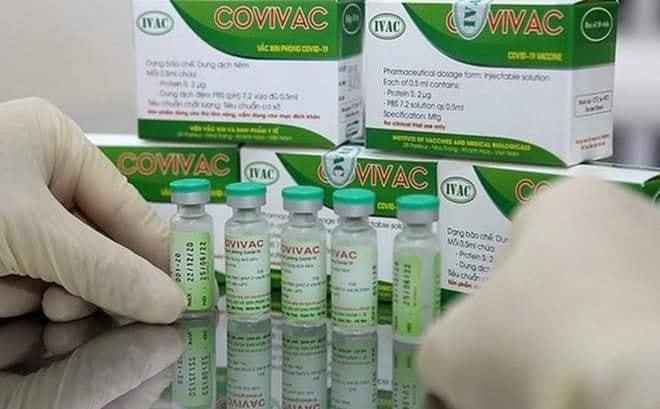 December 2021 should have been the time for Covivac vaccine to enter Phase 3 of a clinical trial. However, a member of the research team belonging to IVAC (the Institute of Vaccines and Medical Biologicals) said the plan was suspended because there were not enough unvaccinated people or uninfected people available for tests.
The research and development (R&D) project of IVAC, belonging to the Ministry of Health (MOH), was activated in May 2020 based on cooperation with universities, research institutes and international organizations.
Another solution was considered. The research team would test Covivac for the booster jab as there was no more opportunity for basic jabs. However, it would still have to wait until March 2022 or six months after the second jabs.
In the new period, the R&D team would have to test the vaccine on a much larger number of samples, which means a high cost of implementation.
However, in March, the plan continued to be delayed for an indefinite time. It's unclear when the Covivac project will resume.
On March 24, a member of the research team said 'suspension' means that Covivac still has opportunities. However, this will only happen if the Government finds it necessary to have a Covivac vaccine for the future.
"When there is demand, we will go forward. If finding it unnecessary to continue to develop the vaccine, or if there are other options, we will stop," he said. "In theory, Covivac can continue going forward."
However, he added that the opportunity of going forward is 'just like the possibility of Vietnam beating Germany in a football match'.
Regarding expenses on the project, in August 2021, the Government agreed on allocating VND8.8 billion to Covivac from the vaccine fund to supplement the funding for Phases 1 and 2. The total expenses to date have not been made public, but experts estimate that hundreds of billion of dong have been spent so far.
Covivac and IVAC received encouragement and high expectations from scientists and the community. However, the value alone is not enough for Covivac to return to vaccine research and development.
No 1 expectation
The development of NanoCovax began in May 2020 soon after the pandemic broke out.
The Minister of Science and Technology signed Decision No1256 on officially placing an order with Nanogen on the development of a Covid-19 vaccine on May 15, 2020.
It is the only domestic vaccine developed by a private company. It is made based on recombinant technology, i.e. using harmless antigen fragments (proteins) of nCoV to induce an immune response.
On December 9, 2020, the Biomedical Ethics Council under MOH held a final meeting to review and approve Nanogen's human trial of Covid-19 vaccine in Vietnam.
In June 2021, Ho Nhan, Chair of the Board of Directors of Nanogen, asked the PM to grant an emergency license to NanoCovax.
He stated that Nanogen produced vaccines to provide to people, not profit, and the price of the vaccine would be stable at VND120,000/jab.
The health ministry requested NanoCovax to follow necessary procedures to get a license.
The vaccine has to go through three phases of clinical trial. Phase 1 began on December 18, 2020, Phase 2 February 26, 2021 and Phase 3 June 11, 2021.
After three phases, nearly 14,000 people, including 12,003 people in Phase 3B, have been injected with NanoCovax vaccine at different doses.
At the time when the pandemic reached its peak in HCM City, many epidemiologists hoped that the vaccine could get an emergency license.
"Covid-19 is not the only dangerous pandemic we have to face. We must not rely on vaccines provided under aid programs. We must develop vaccines ourselves to ensure vaccine security," said a doctor.
He warned that vaccine production companies may shrink back after witnessing the NanoCovax case.
On March 18, 2022, Deputy Prime Minister Vu Duc Dam requested MOH to continue to give guidance and support the enterprise to develop a vaccine.
MOH has approved nine kinds of vaccines for emergency use so far, including AstraZeneca, Sputnik V, Vero Cell, Pfizer, Moderna, Janssen, Hayat-Vax, Abdala and Covaxin.
Phu Sy
Vietnam on Sunday crossed the mark of 200 million COVID-19 vaccines administered, just over a year since the 'historic inoculation campaign' was launched on March 8 last year.
The foreign investors' positive sentiment towards the business environment in Vietnam is largely thanks to the country's high vaccination rate.