A new criminal case in which suspects inflated the price of rapid-test kit prices has been discovered. Previously, newspapers had reported turmoil in test kit prices.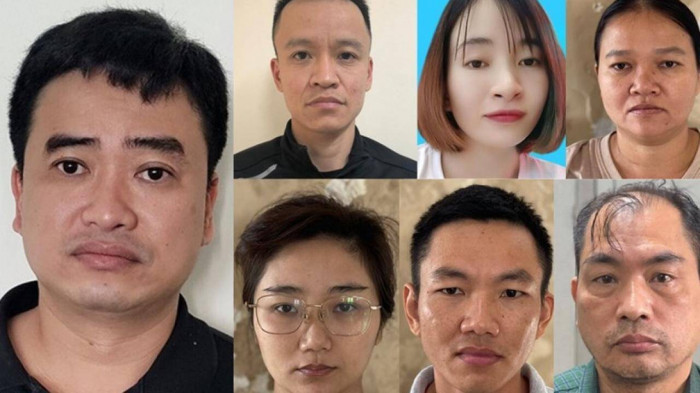 The suspects in the case
The investigation agency has filed charges against and detained Phan Quoc Viet, CEO of Viet A Technology JSC, and Pham Duy Tuyen, Director of CDC Hai Duong, and others.
Earlier, on December 10, the C03 Agency conducted an urgent search of 16 locations in eight localities, including Hanoi, HCM City, Hai Duong, Thua Thien – Hue, Binh Duong, Long An, Can Tho and Nghe An, and summoned testimony from 30 related subjects.
According to the investigation agency, Viet inflated the prices of equipment, input materials and set the price at a high level of VND470,000; and promised to pay commissions to hospital leaders and provincial CDCs that bought its products.
Viet A provided Covid-19 test kits to CDC (Centers for Disease Control and Prevention) and other medical units in 62 cities and provinces with revenue of VND4 trillion. Tuyen alone received a 'commission' of VND30 billion. The same 'rule' have been applied to other cities and provinces.
In April 2020, CDC Hanoi official Nguyen Nhat Cam was detained for violations of regulations on bidding, causing serious consequences in Covid-19 testing procurement.
The profit of several billions of dong Cam tried to pocket last year was small compared with the VND30 billion Tuyen collected from hundreds of thousands of test kits.
All of this activity occurred in the midst of millions of people suffering from Covid-19, and thousands of medical staff, soldiers, police and volunteers working in epicenters to help people overcome the pandemic.
Medical workers are struggling to fight the pandemic and working in dangerous conditions. Around VND5-6 million is the average monthly wage paid to one worker with 15-20 years of experience at grassroots healthcare units.
Low pay and hard work are the reasons why many ward medical workers want to resign. In 2020, as many as 597 workers resigned from their post, while the figure was 968 in the first 10 months of the year.
The total amount of money budgeted to support medical workers in HCM City is VND8.5 billion a month, which is just one quarter of the amount Tuyen pocketed from the business deal with Viet.
Not only Hai Duong but other cities and provinces also bought test kits from Viet A at the price of VND470,000 and higher.
Nguyen Duy Xuan
The Hanoi People's Court on December 12 sentenced Nguyen Nhat Cam, former director of the Hanoi Centre for Disease Control (CDC Hanoi), to 10 years in prison for "violations on bidding regulations that causes serious consequences".
The Ministry of Public Security has proposed charging former director of the Hanoi Center for Disease Control (CDC) Nguyen Nhat Cam and nine others for allegedly tripling the purchase price of the real-time PCR detection systems.