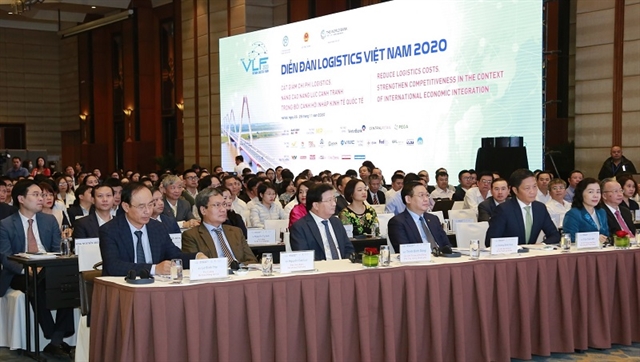 The Việt Nam Logistics Forum 2020 in Hà Nội will focus on reducing logistics costs, improving business environment and enhancing competitiveness. The event has been held annually since 2013. VGP Photo
HÀ NỘI — The Việt Nam Logistics Forum 2021 is set to take place on December 14 under the theme "Developing logistic human resources."
This annual event is jointly held by the Ministry of Industry and Trade and relevant agencies with an aim of promoting the development of logistics services, linking logistics with manufacturing, enhancing import and export industries, and providing a dialogue on the latest information on major logistic issues in Việt Nam and in the world.
The forum will be attended by Trần Tuấn Anh, Politburo Member and Head of the Central Economic Commission, Lê Văn Thành, Central Committee Member and Deputy Prime Minister, and many other representatives from government agencies, the national assembly, local authorities, the business sector, foreign organisations and media agencies.
Due to preventive measures, just 120-130 participants were allowed to attend the forum in-person, and 1,000 will access it online.
The forum is also expected to hold two seminars within its framework. One is about "Recovering supply chains and developing logistics after the pandemic," and the other is about "Building powerful corporations in logistics."
New-generation free trade agreements such as the CTPP, EVFTA and RCEP are putting firms to the test. The government and relevant agencies are thus paying closer attention to the development of human resources logistic human resources, to help firms improve their competitiveness amid extensive international economic integration and recover after the pandemic. — VNS