Bảo Ngọc
Food blogger Corrin Carlson knows only too well that the proof of the pudding is in the eating.
The American scours the streets of Hà Nội looking high and low for the tastiest treats on offer.
Then it's lights, camera, action as she reviews the local delicacies, sharing her taste bud experiences via social media to the whole world.
Corrin's reviews are not only popular with the expat community, but her charm and humour have struck a cord with Vietnamese followers.
"I love learning about food and the place it holds in different cultures and countries around the world," she said.
"When I arrived in Việt Nam, I wanted to try all of the different foods here."
Corrin tries tào phớ, a sweet tofu dessert, which she describes as "the perfect dessert to escape the heat". — Photo courtesy of the blogger
She came to Việt Nam while backpacking because she wanted to do a motorbike trip from Hà Nội to HCM City. Instead, Corrin met her partner in Hà Nội and now the capital city is her home.
In 2021, her video introducing Vietnamese fried salt chicken (gà rang muối) and fried sticky rice (xôi chiên) suddenly went viral on the internet.
Corrin said the dish is her go-to "guilty pleasure" order and she really loves the taste of the fried chicken coated with salt. In addition, the food blogger also enjoys fried sticky rice with savoury fillings inside and its accompanying signature dipping sauce.
"Salt pepper lime and chili make the perfect dipping sauce and it all goes best with a Hà Nội beer," she said.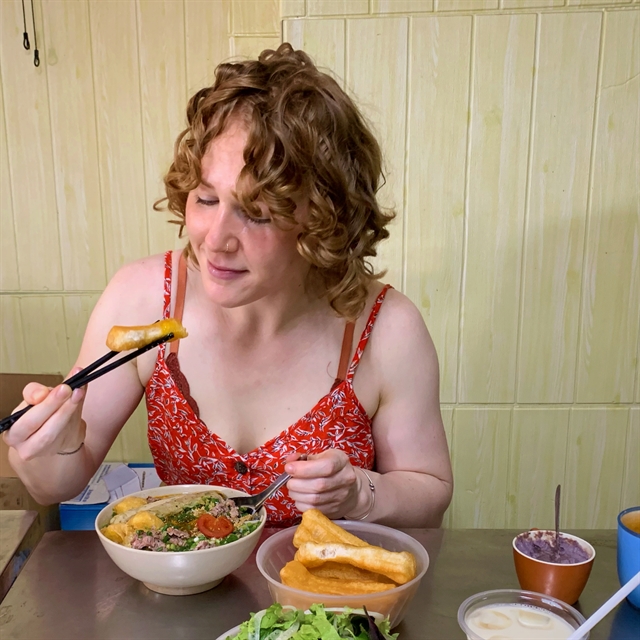 Corrin enjoys bún ốc, a Vietnamese noodle dish with small snails, ground beef, fermented sausage and sour broth. — Photo courtesy of the blogger
Corrin told Việt Nam News, how she noticed many talented young Vietnamese foodies sharing about great food on Instagram, but couldn't find many doing it in English.
So she decided to make a blog about life and food in Việt Nam from the perspective of a foreigner.
She said: "I decided to start the Instagram account called Plates of Hanoi to share with other English speakers great food so that they could know where they could find it.
"I have been running the Instagram page for over two years, and then I started posting regularly on TikTok this past summer during lockdown."
American blogger at BAKED by Julie, a local dessert restaurant. She said it offers "pinkest and prettiest" cakes in Hà Nội. — Photo courtesy of the blogger
The food reviewer says she rarely has any difficulties when she is going out to eat in Việt Nam as people here are usually friendly and kind to foreigners.
She hopes to learn more Vietnamese so it will be easier for her to communicate with restaurant owners and waiters.
"My goal is to be a resource to other foreigners and tourists, so that they are more confident to eat the amazing foods around Hà Nội."
Corrin's partner, Steph, works with her behind the scenes and helped develop Plates of Hanoi.
"She has taken many photos of me for Instagram and accompanies me to try new restaurants and food", said Corrin.
Besides TikTok and Instagram accounts that are very popular with the online community, they are also building a Youtube channel of the same name.
Living in Việt Nam for more than two years, Corrin has tried most of the famous dishes here such as bún chả, bún đậu mắm tôm (vermicelli with shrimp paste), and phở. However, she says her all time favourite Vietnamese dish is still bánh cuốn (Vietnamese steamed rice rolls).
In one of her videos, she describes the dish: "Bánh cuốn is hands down my favourite Vietnamese dish. The artistry that goes into making these super thin rice layer pancakes is next level."
Corrin joked that she once tried to make the batter on her own at home but failed. "It was a terrible mistake", she admitted.
Việt Nam has brought this American foodie many wonderful experiences with its rich and attractive cuisine.
Corrin said that the best moments are when she tries a great food or restaurant that someone has recommended to her.
She met incredible people across Hà Nội who share her passion for food and love to cook. She also received a lot of love from the local community and many comments from Vietnamese people living abroad saying that her videos remind them of home.
Việt Nam has brought the American many new friends. — Photo courtesy of the blogger
Talking about future plans, the young American said that she wants to continue to spread her love for food to everyone and encourage them to try more new dishes.
She said: "In the next few years, I want to continue encouraging people to travel and try foods that are new to them. And to continue traveling and trying more food myself, too!" VNS