Thousands of people of different generations have volunteered to join the country's efforts in the fight against COVID-19, and their acts of kindness have contributed to helping many overcome the most difficult times in their lives.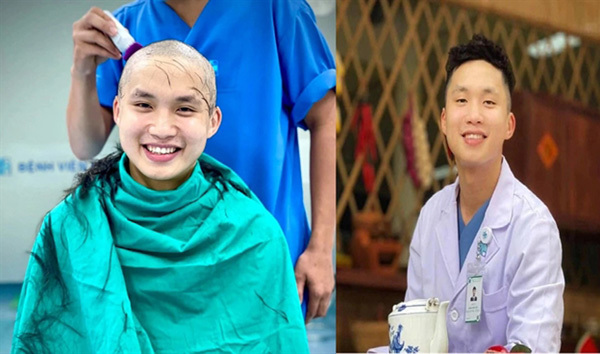 Dr Dang Minh Hieu before and after having his head shaved to facilitate his work in COVID-19 prevention and control. — Photo tienphong.vn
They include not only medical workers and soldiers but also normal people willing to work for the good of others.
They volunteered to go to epicentres of the pandemic; be on guard at coronavirus prevention and control stations; open zero-dong mini supermarkets, 'free rice ATMs' and 'free oxygen ATMs'; transport patients and medical equipment and essential supplies for people in areas under quarantine; and take samples for COVID-19 testing.
Last May Dang Minh Tri, 23, voluntarily drove his private ambulance through the night, over 500km, from the central province of Quang Binh to Bac Giang to support medical centres in the northern province in fighting the virus.
Tri decided to go to Bac Giang upon learning that the province was among the hardest hit by the pandemic. After persuading his parents, Tri left his home for Bac Giang at 3am the next day with the hope of arriving in the province as soon as possible.
In Bac Giang, Tri transported hundreds of COVID patients and medical equipment to hospitals.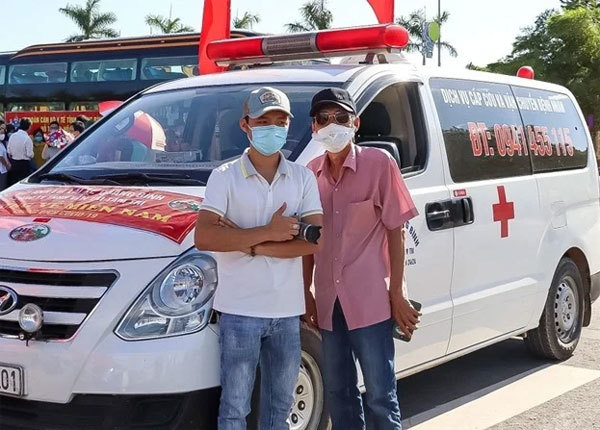 Dang Minh Tri (left). — Photo zingnews.vn
When the province temporarily put the pandemic under control, Tri continued to drive to other localities to support their fight against the pandemic, from Bac Giang and Bac Ninh in the north to HCM City, Dong Nai and Binh Duong in the south.
"I just want to contribute a small part to the community's efforts to control the pandemic. What I have done is nothing in comparison to what thousands of medical workers are doing. Many medical workers have to work long hours in protective suits in severe hot summer weather," he told Việt Nam News.
And the journey of the young driver has not yet stopped. He is now working at a COVID prevention and control centre in his home town.
In 2021, Tri was selected as one of 10 winners of the National Volunteer Award, which honours individuals and organisations for their outstanding voluntary services and practical contributions to society.
Another shining example is Dr Dang Minh Hieu who was one of 200 medical workers of HCM City University Medical Centre to join the frontline force against the pandemic last year.
"Understanding the complexity of the pandemic this time, my desire to make some contribution together with my colleagues at the frontline grew stronger and stronger. I always wished to be mobilised one day so that I could devote myself to soon bring back a peaceful life for everyone," he told Người Lao Động (The Labourer) online newspaper.
After receiving the order to go to Bac Giang last May to help in stopping the pandemic in the northern province, Dr Hieu, 29, had his hair shaved to make him feel cool in a protective suit while on duty.
The Head of the Centre's Department of Science and Training Le Minh Khoi said that he was moved when seeing the picture of Hieu having his head shaved.
"There are people who are very simple in daily life but are willing to stand up during these difficult times," he said.
Le Vo Thi Cam Tien, a 12th grader in HCM City, was infected with the virus when she voluntarily joined nurses to take local residents' samples for virus testing last July.
Tien was then treated at a field hospital in Thu Duc City. After full recovery, she continued to work in a quick response team to treat COVID-19 patients in District 11.
The young girl barely had time to rest when she followed daily routine, from helping to take samples for testing, bringing medicine to patients to delivering foods to local residents.
Tien carries an oxygen cylinder to a COVID-19 patient's house. — Photo thanhnien.vn
Tien told Tiền Phong (Vanguard) online newspaper that she was very happy when seeing the joy of residents receiving essential supplies during the pandemic.
"Happiness is just simple like that," she said.
She added that she used to be a coronavirus patient so could understand other patients' thinking, which prompted her to spend more time to care for and encourage them.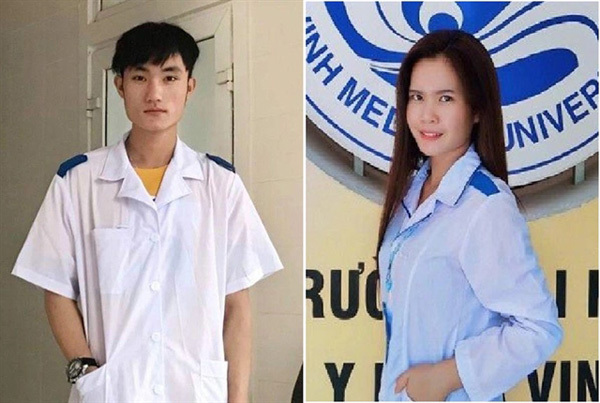 Norchoualee Yẽngoualee and Philomphed Somoh. — Photo zingnews.vn
In response to the call of the Vinh Medical University in the central province of Nghe An, two students from Laos, Norchoualee Yẽngoualee and Philomphed Somoh, voluntarily joined local healthcare staff in the battle against the pandemic.
"The pandemic affects both Laos and Vietnam. I cannot participate in the fight against the pandemic in my home country but I can contribute my efforts to protect Vietnamese people," Yẽngoualee told Zing news.
Vu Quoc Cuong, born in 1975 in HCM City, is also a bright role model of voluntary and humanitarian work.
During the pandemic, he organised many activities to support those affected by COVID-19, such as cooking and presenting free meals to the poor, homeless and those in quarantine areas.
Unfortunately he was infected with the virus and died, leaving behind various humanitarian projects.
President Nguyen Xuan Phuc signed a decision to posthumously award a certificate of merit to Cuong in honour of his services.
The pandemic has left huge losses but the enthusiasm and spirit of all volunteers have proved vital to the fight against the global health crisis, as well as inspired and touched the hearts of people across the country.
Source: Vietnam News
Sleeping three or four hours a day, being ready to work regardless of the time, or spending hours sweltering inside a protective suit.
While you are staying safe and working from home during social distancing, doctors and nurses are working hard to treat infections and many volunteers are assisting people in quarantine zones.