Though the winners of Thu Thiem land auctions withdrew their purchase contracts, the land market in HCM City remains hot, and the prices of some projects are escalating.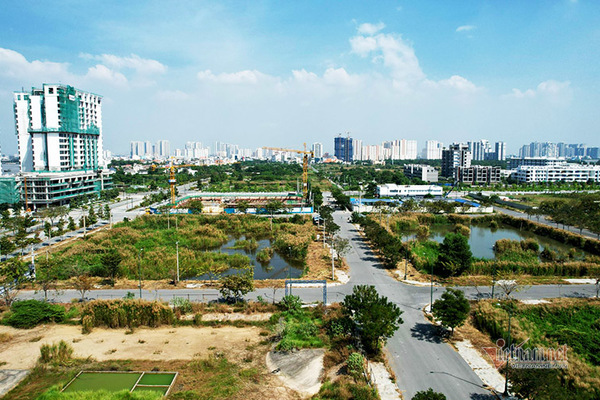 The HCM City real estate market is witnessing a new price increase wave. After two years of being affected by Covid-19, the market has shown signs of improvement, especially in the market segment of landed houses and luxury villas.
Some landed house projects in Thu Duc City launched into the market have sky-high prices.
The 117 hectare project in An Phu Ward in Thu Duc City is an example. The developer at a recent event announced the expected price of VND38 billion for townhouse project. The land area of each product is 100 sq m, while landed houses at the project have prices of VND400 million per sq m, not including VAT.
A villa project in ThuDuc City was introduced with the price of VND100 billion for each product. There were only 13 products, so they sold out within a short time.
More recently, the owner of a Sai Gon riverside project in Hiep Binh Phuoc Ward in Thu Duc City launched 27 villas and shophouses with selling prices of VND160 billion and VND60 billion per product, respectively.
The sky-high selling prices of landed houses at these projects not only surprised investors, but brokers as well. However, they are located on advantageous positions and have good amenities, while supply is short.
The owner of a real estate trading floor which distributes commercial shophouses in a project in An Phu said he has only five products for distribution. People who want to buy products have to pay a deposit of VND100 million. However, as the basket of products is limited, the trading floor has had to organize a lucky draw.
Experts say the results of Thu Thiem land auction have had a big impact on the HCM City land market. Though the winners of the auction canceled the purchase contracts, this has not cooled down the market. The prices of some new projects have even climbed to a new high. The price increase wave is occurring not only in new projects, but in the secondary market as well.
The prices of townhouses on Nguyen Co Thach Road in Thu Duc City, for example, have soared from VND35 billion to VND45-47 billion. Luxury apartments in the area are traded at VND180-22- million per sq m.
Le Hoang Chau, Chair of the HCM City Real Estate Association (HOREA), said after the ThuvThiem auction results were released, land prices in ThuvDuc City began escalating.
He warned that the high winning prices at the ThuvThiem auction will have a negative impact on the real estate market. This will hinder the program on reducing housing prices.
In HCM City, it's nearly impossible to find housing projects with selling prices of VND30 million per sq m.
"The overly high prices of land, which are higher than the actual value and do not follow demand and supply, could be a double-edged sword which would be detrimental to both consumers and developers. If developers set high prices that are not accepted in the market, this will lead to high inventories," he warned.
Experts said that while the supply of housing is short and the market is heating up, if developers push prices up, this will harm the entire market, leading to another real estate bubble.
"The new projects with sky-high prices don't truly reflect the 'health' of the market. A sustainable market needs to have supply and demand balance. While high-end product prices continuously climb to new highs, affordable products are not appearing in the market," the owner of a real estate firm in Thu Duc City said.
A new report from the HCM City People's Committee shows that the housing supply in the city in 2021 decreased by 35.58 percent. The product structure does not ensure sustainable development and social security needs.
In principle, the supply of affordable apartments should account for the highest proportion. But, in fact, the supply has fallen from 1 percent to zero percent. Mid-end apartment proportion has decreased from 59.6 percent to 26 percent. Meanwhile, high-end apartments have soared from 42 percent to 74 percent. These are the indicators of a market with a lack of sustainability.
In 2021, HCM City had 20 projects with 14,443 products that satisfied the requirements to mobilize capital and sell products that will take shape in the future. Only one project, with 528 units, completed construction.
Anh Phuong
In many cases, enterprises have bid high prices at land auctions and then cancelled the purchases. This has created artificial land prices which has allowed them to corner the market, and buy and sell other land plots for illegal profiteering.
After Tan Hoang Minh Group, Binh Minh Trading and Development Investment Co. Ltd., which won the auction for the land lot coded 3-9 in the Thu Thiem New Urban Area in HCMC's Thu Duc City, has proposed canceling a contract to buy the land lot.