Many enterprises in Binh Duong province, a major industrial production center, are finding it difficult to recruit thousands of employees.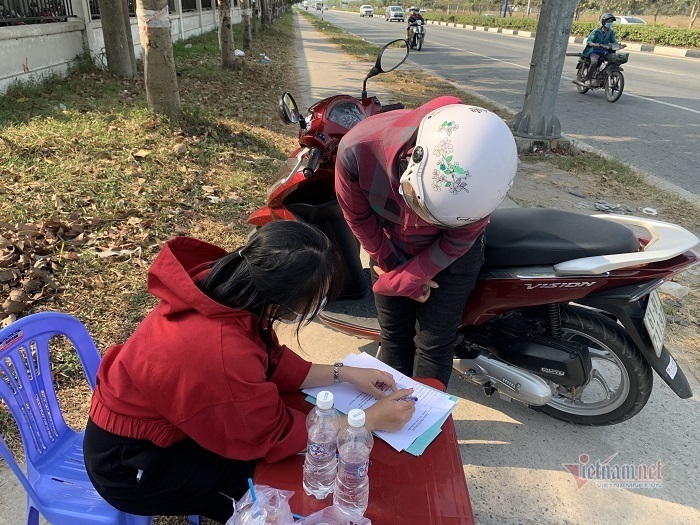 Some enterprises send their recruitment officers to high-traffic routes to invite passersby to apply for jobs
In Dai Dang Industrial Zone ( IZ) in Thu Dau Mot City, a number of enterprises are hanging up signs saying they are seeking workers, from several hundred to thousands of workers.
Vietnam Jin Chang Shoes is recruiting a high number of workers both untrained and skilled, offering high incomes of VND10-12 million a month and other attractive treatments. However, there are few people for these jobs at this moment.
Kurim Vietnam is seeking more than 100 workers, offering salaries of between VND7 million and VND13 million a month, plus other remunerations, including 13th-month salary, bonuses and tours. However, the number of applicants is modest, though the recruitment campaign was announced before Tet.
The same situation is seen in Binh Chuan industrial production zone in Thuan An City. There are thousands of jobs in the field of textiles and garments, packaging, electronics and footwear, but there are few people interested. Some people were seen leaving after reading the recruitment notices.
Nguyen Thi Thuy, 35, from Dong Thap, said she has been looking for a job, but still cannot find a satisfactory position.
A representative of a packaging manufacturing enterprise in the zone said it needs to recruit 200 workers, offering monthly pay of VND10 million a month on average, higher than the previous years, but still cannot recruit enough workers.
Hundreds of businesses in Di An City, Tan Uyen Town and Bac Tan Uyen and Bau Bang districts are also looking for workers. Some enterprises send their recruitment officers to high-traffic routes to invite passersby to apply for jobs.
According to Binh Duong Job Center, hundreds of enterprises in the locality have demand for workers to implement contracts signed with partners. Most of the enterprises are in the fields of footwear, textile and garment, electronics, woodwork and food.
Pham Van Tuyen, Deputy Director of Binh Duong Department of Labor, War Invalids and Social Affairs, said that enterprises in the province need 40,000 workers in the first months of the year, and unskilled workers account for 70 percent.
To satisfy demand, the department has directed the job center to provide more information about the labor market, organize periodic job transaction sessions, and promote job consultancy and introductions. Binh Duong is also cooperating with other provinces to attract workers to Binh Duong.
Binh Duong is a large industrial production center where many industrial zones are located. The labor shortage began in late October after the lockdown (due to Covid) ended and production began recovering, and has become more serious after Tet.
Xuan An
Vietnamese businesses have high hopes for an economic recovery in 2022. Despite Covid-19, foreign-invested enterprises are scaling up their business in Vietnam.
Every year after the Tet (Lunar New Year) holiday, many businesses face a serious shortage of workers. Last year, due to the impact of social distancing orders, enterprises struggled with a shortage of labour.