Many major fashion and apparel brands worldwide are committed to prioritizing orders from businesses that meet the environmentally friendly production and resource-saving criteria.
They will gradually cancel orders from firms that do not improve production safety and the environment.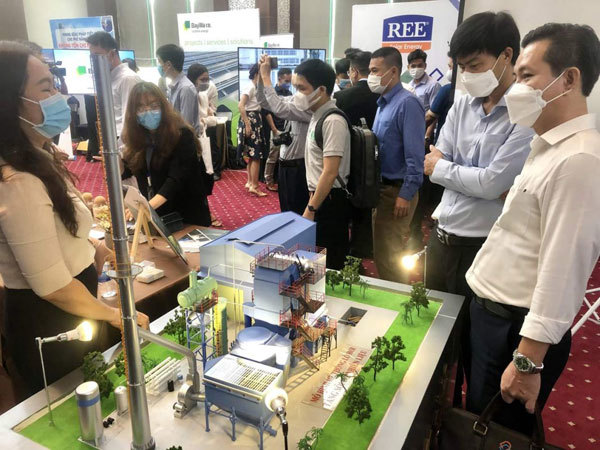 Representatives of garment manufacturers and suppliers learn about renewable energy technology on the sidelines of the conference. – SGT Photo: Le Hoang
This information was conveyed at a seminar entitled "Renewable energy – a clean and sustainable energy source for Vietnam's textile and garment industry" held on March 18 by the Vietnam Textile and Apparel Association (VITAS) in collaboration with the International Finance Corporation (IFC), World Wildlife Fund (WWF) and businesses operating in the field of renewable energy.
Time to get on board
The major apparel brands in the world that have placed orders with local textile and garment companies now prefer eco-friendly enterprises. Those that are slow to adopt practices to save energy, natural resources, etc. are at risk of losing orders.
In addition, consumers worldwide are also increasingly paying attention to the environmental responsibility of businesses when buying a product.
At the seminar, Tien Le, senior manager of sustainable development in Southeast Asia of VF, which owns many fashion brands, said that over the years, VF has implemented programs to support many garment players in Vietnam to optimize their operations via saving energy, using clean energy and reducing CO2 emissions. Eco-friendly textile factories will be given priority by VF to sign large and long-term orders, she said.
Nguyen Viet Dung, in charge of Puma's garment and backpack management in Vietnam, said that Puma has dozens of suppliers in Vietnam. The company has mapped out a specific plan for sustainable development as well as emission reduction in Vietnam as it also puts safe production, environment and consumers as the first priority, he added.
Therefore, Puma always encourages and supports manufacturers to develop roadmaps to continue sustainable development, reduce CO2 emissions and improve product quality. Puma always shares the updated needs of buyers and consumers among suppliers so that the latter can adapt accordingly. Besides, depending on the capabilities of each supplier, Puma has a specific development roadmap for them.
"We have commitments for suppliers if they can achieve targets in a short time. We also have solutions for those that cannot make progress in improving sustainable production," Dung said.
Manufacturers and suppliers have no choice but to adapt to survive and develop, said Nguyen Thi Tuyet Mai, deputy general secretary cum chief representative of VITAS in HCMC. She added that products must be environmentally friendly while production must be green.
Save costs, increase reputation, win more orders
Vu Duc Giang, chairman of VITAS, said that sustainable and renewable energy development and water resources saving are the strategic goals of Vietnam's textile and garment industry.
At COP 26 (the 2021 United Nations Climate Change Conference), the Vietnamese Prime Minister made a strong commitment to reducing net emissions to zero by 2050. On that basis, the Vietnamese textile and garment industry has come up with sustainable solutions.
Of these, four issues were raised, including infrastructure investment to meet the requirements set out by COP 26 for Vietnam, provisions of free trade agreements which Vietnam has joined, requirements of brands for Vietnam's exports and the commitments to global consumers about the transparency and safety of textile products.
Giang added that the switch from ordinary equipment to energy-saving and environment-friendly equipment will increase production costs by about 15%, but all of these will be shared by customers and consumers.
At the seminar, Tran Nhu Tung, head of Sustainable Development Department of VITAS, quoted data from organizations such as the Ministry of Industry and Trade, IFC, USAID, saying that the power consumption of Vietnam's textile and garment industry each year is around US$3 billion.
In 2021, Vietnam's textile and garment export turnover was US$40.47 billion. But, the cost of electricity accounted for 7.5%. According to Tung, if electricity is used more efficiently apart from using renewable energy products, the textile and garment industry can save US$1 billion a year, in addition to reducing other production costs.
Furthermore, it is necessary to reduce resource consumption and textile waste through the implementation of cleaner and resource-efficient production methods and industrial symbiosis methods. Businesses should increase the use of solar energy and other renewable energy sources that are more efficient and environmentally friendly.
VITAS targets that by 2030, the textile and garment industry in Vietnam will become the top destination for buyers who want to look for a sustainable source of textile products that are not harmful to the environment and consumers.
Tung added that sustainable development is not only the trend of the world but a requirement from the market and customers. Therefore, Vietnamese textile and garment enterprises have no choice but to adapt. Regulations by the Vietnamese Government for the textile and garment industry also set requirements for greener and cleaner production.
Citing Thanh Cong Textile and Garment Company, Tung said that the company's factory at Hoa Phu Industrial Park in Vinh Long Province had been put into operation since 2020 (the first phase).
The rooftop solar power system of this project is expected to generate 48.5 million kWh of electricity in 20 years, meeting more than 60% of the power demand for the plant and saving more than US$1.9 million. Besides, the system also helps reduce 44,281 tons of CO2, equivalent to planting more than 2.6 million trees and cutting down 19,342 tons of coal.
According to experts and businesses, investing in sustainable development not only helps save costs for businesses but also helps promote a good reputation among customers, especially importers and brands from the U.S. and Europe in terms of the environment. This will help businesses and manufacturers receive more new orders and develop more sustainably.
Source: Saigon Times
With control loosening, businesses in green zones in Hanoi will be able to restart their production and business activities. But they fear that control may tighten again if the outbreak gets worse.
European financial institutions are displaying their optimism about Vietnam's sustainability path by fostering green financing alternatives, thus empowering the country to fulfil its net-zero carbon emission promise by 2050.