In light of the spread of the Omicron variant in Southeast Asia and around the world, Vietnam should act as though the variant is already in the country, Deputy Prime Minister Vu Duc Dam has said.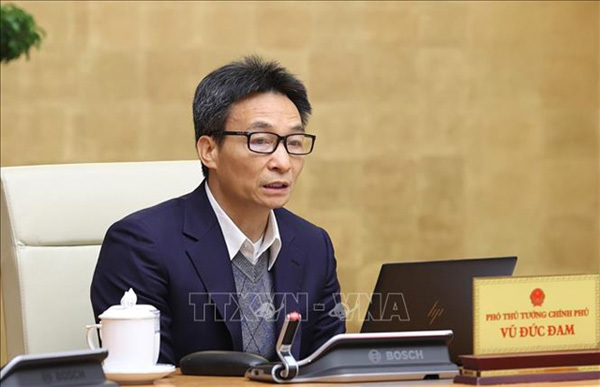 Deputy PM Vu Duc Dam at the national conference on COVID-19 prevention and control during Lunar New Year celebrations on Wednesday. — VNA/VNS Photo
Speaking at a national conference on COVID-19 prevention and control for the Lunar New Year celebration in late January, Dam said that the COVID-19 pandemic will continue to be unpredictable in light of the appearance of Omicron.
Some studies have shown that Omicron spreads three to seven times faster than the Delta strain.
People who are fully vaccinated have 12 times less risk of death, though there are no clear signs that the Omicron strain is less virulent than the Delta variant, he said. The risk of infection due to the Omicron strain among fully-vaccinated people is about three times higher than that of the Delta strain.
Those who were infected with the Delta strain have a higher risk of infection with the Omicron strain, he said.
While the Ministry of Health has not yet issued new guidelines on assessing the level of the pandemic, specific sectors and specific localities should discuss with the health authority to raise its pandemic level higher than determined by the current guidelines, Dam said.
He asked for vaccination administration to be sped up, particularly for those with underlying medical conditions and those aged over 50.
The Ministry of Health was asked to ensure sufficient antiretroviral drugs for localities so that patients can receive them as soon as possible.
The Ministry of Health shall coordinate with the People's Committee's of provinces and cities to direct, guide and train people home quarantine and self-treatment to avoid overloading at upper-level hospitals.
"Grassroots health systems must manage all infected people," he said, noting that no COVID-19 patients have been left unable to access health services or professional health monitoring.
"Supposing that the variant is less virulent, this does not mean that fully vaccinated people are fully immune from infection. And of those infected, some will become severely ill," he said.
"If the infection number rises sharply at the same time, the health system will be vulnerable to being overloaded and the death rate will be very high," he said.
"Therefore, we must not relax our vigilance," he said.
He added that during the upcoming Lunar New Year, COVID-19 prevention and control teams, as well as the police, militia, health care workers and general population, must follow the slogan "reaching every corner, knocking every door", calling on people to get vaccinated and offering support to those quarantining at home so everyone can still enjoy the Tet holiday.
Director of the Preventive Medicine Department under the Ministry of Health Phan Trong Lan said that up to now, the COVID-19 pandemic has been basically controlled nationwide.
However, the number of community cases and deaths continued to increase rapidly in many localities. The implementation of Resolution 128/NQ-CP and Decision 4800/QD-BYT has allowed most activities to resume.
Among causes for the hike of new infections were the pathogens circulating in the community, the Delta variant's ability to spread fast and people's non-compliance with disease prevention measures.
Moreover, the immunity of vaccinated people decreases over time, while new people need time to develop immunity.
The ministry proposed strengthening COVID-19 prevention and control measures, especially early detection, treatment to reduce severe disease and mortality. Vaccination administration must also be sped up due to the approaching winter and spring weather, which is favourable for the spread of COVID-19, and the upcoming New Year and Tet holidays.
The ministry asked the People's Committees of provinces and cities to strictly follow the direction of the Prime Minister and continue to assess the level of the pandemic, taking appropriate responding measures.
Localities were also asked to ensure production recovery activities, improve grassroots health capacity, proactively make use of on-site resources such as medical equipment, human resources, therapeutic drugs and oxygen supply. By the end of this month, all people over 18 years old must be fully vaccinated.
The booster vaccine dose for adults, and second for children aged 12-18, are expected to be completed in January 2022, Lan said.
Source: Vietnam News
The Ministry of Health (MOH) has asked local authorities to strengthen surveillance to discover Covid-19 cases and any abnormal signs of clusters as a new coronavirus variant called Omicron has emerged.