About 490,000 children in Vietnam were confirmed to have contracted coronavirus since the beginning of the pandemic, according to deputy health minister Nguyen Truong Son.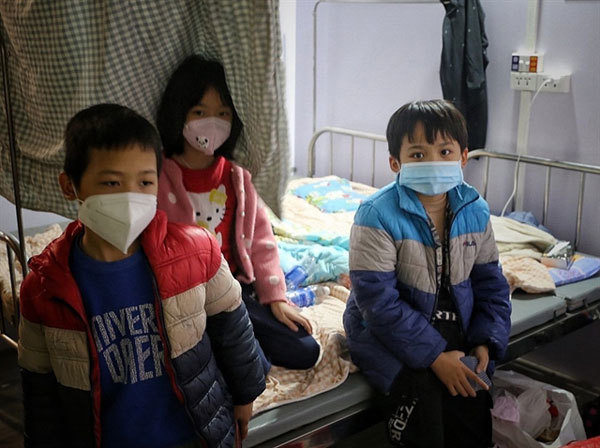 COVID-19 positive children in a field hospital in the northern city of Bac Giang in early 2022 during a coronavirus outbreak sweeping through several primary schools and kindergartens. — VNA/VNS Photo Danh Lam
Speaking at a national conference on guidance and care for COVID-19 infected children, Son said the number accounts for 19.2 per cent of people aged under 18 years in the country.
4.8 per cent of children between 13-17 years have tested positive for the virus; 8 per cent aged 6-12; 2.8 per cent aged 3-5; and 3.6 per cent aged 0-2, he noted.
Only 165 child deaths have been attributed to COVID-19, accounting for 0.42 per cent of the country's total COVID-19 deaths – 0.11 per cent in the 13-17 years group, 0.1 per cent in the 6-12 range, and 0.18 per cent in the 0-2 range.
While the death rate remains low, there are many cases of long-COVID symptoms, including post-COVID complications and some serious but rare multisystem inflammatory syndrome cases, the health official said.
Nguyen Trong Khoa, deputy head of the Department of Medical Examination and Treatment under the health ministry, said as of February 7, among 516,163 cases of COVID-19 detected in HCM City, the former epicentre of the fourth wave in Vietnam, 32,429 were children, or 6.3 per cent of the total.
An analysis of 2,478 COVID-19 infected children in HCM City revealed 165 cases of serious disease, with 13.9 per cent suffering from overweight issues and 8.5 per cent from other health issues.
Khoa said the focus should be on protecting vulnerable groups of children – ones who are obese, under treatment for chronic health problems, immunocompromised patients, etc. – as they are at disproportionately high risks of severe disease and deaths when infected.
In recent times, the health ministry has been closely coordinating with the education ministry and local authorities to expedite the vaccination of children aged 12-17 years to allow the safe reopening of schools with the current vaccination rate reaching 90 per cent.
A total of 16.4 million doses of Pfizer COVID-19 vaccines have been administered to this age group, including 7.96 million second doses, while the inoculation of children in the 5-12 years age group is slated to start soon, also with Pfizer shots.
However, at the conference, experts cautioned that with the reopening, the number of children contracting COVID-19 is expected to rise significantly, therefore, ensuring the safety of children is an important task, especially for the unvaccinated.
The health and education sectors will need to arrange for more on-site human resources and training to respond to outbreak developments in each locality, they said.
Schools must fully comply with professional instructions of the health ministry and education ministry, including sanitation and disinfection, receiving students in separate lanes, arrangement of temporary isolation rooms at schools and backup classrooms in case of suspect COVID-19 infection.
At the grassroots levels, it's important for the health workers to be able to effectively classify the disease severity of the infected children or determine the likely progression of the disease, to move them to appropriate medical facilities, to avoid unnecessary cases of serious illness.
Facilities for mild and serious cases should also raise their capacity in paediatric COVID-19 treatment, prepare appropriate facilities and equipment in cases of rising emergency cases.
Source: Vietnam News
The COVID-19 pandemic has caused severe impacts to all parts of life across Vietnam in 2021. A survey has found that the biggest concerns of Vietnamese people during the pandemic has been their health and their children's education.
Vu Minh Tri, an 8th grader in Hanoi, was reunited with his classmates for the first time after nine months on Tuesday.