In 2021, 14 Vietnamese products, ranging from rice paper to dry vermicelli to coffee to ceramics, were sold on Amazon every minute.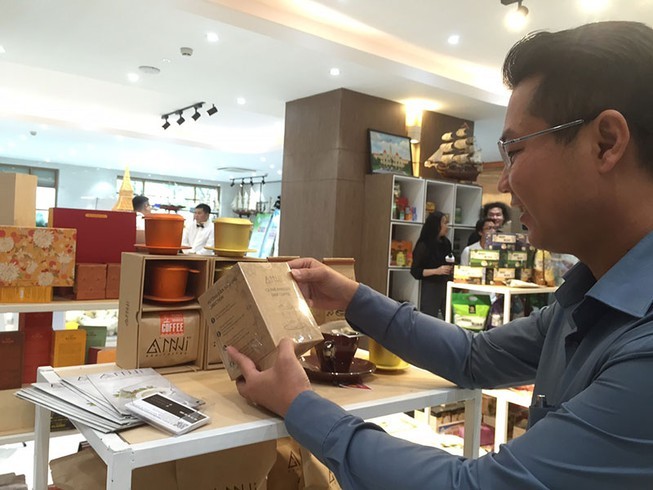 The price of Vietnamese coffee on Amazon is three times higher than the domestic market. Photo: TU
A search with the keyword "Rice paper wrapper" on Amazon will yield hundreds of products sourced from Vietnam, Thailand and Japan. However, the number of products of Vietnamese origin is overwhelming. A stack of rice paper wrappers of Vietnamese brands such as Mekong River, Tanisa, Binh Tay are priced from 8.45 – 19.99 USD on Amazon.
Similarly, fresh grape seaweed products of Vietnamese origin are sold for 9 – 19 USD. They receive positive comments from many US shoppers.
Many other Vietnamese products such as straw and grass brooms, conical hats, ceramics, coffee, dry noodles, bamboo and rattan furniture, wooden furniture are also available on Amazon or Ebay.
The number and types of goods from Vietnam on international e-commerce platforms has been rising in recent years, particularly in 2021, despite the impact of the pandemic and difficulties in international freight transport.
Amid the strong development of e-commerce, introducing goods on cross-border markets like Amazon is is an opportunity for products to quickly access foreign market such as the US, Canada, the UK, Germany, France, the Netherlands, Sweden, Japan, Singapore.
According to Amazon's latest report, from September 2020 to August 2021, nearly 7.2 million products of Vietnamese small and medium enterprises (SMEs) were sold to customers around the world.
It is estimated that during this time, 14 Vietnamese products were sold every minute. Although it did not specify the number of Vietnamese firms selling goods, the report said the number of Vietnamese SMEs earning at least $1 million revenue on Amazon increased by more than 40% year on year.
At the same time, the number of Vietnamese SMEs with revenue of at least $500,000 rose by over 53% and the number of businesses with sales of more than $100,000 on Amazon rose by nearly 18%.
The best-selling Vietnamese product lines on Amazon are home appliances, kitchen tools, textile products, home gadgets, health and personal care products. Popular Vietnamese brands on this platform are Minh Long ceramics, Royal helmets, Lafooco cashews, and Truong Tho grape seaweed.
Great opportunity, but professionalism needed
A representative of Amazon Global Selling said that Vietnamese products have the opportunity to "get on the shelves" of Amazon, which supports local businesses through many seminars and training programs for SMEs.
Amazon Global Selling has also strengthened cooperation with the Vietnam E-commerce and Digital Economy Agency (IDEA), Vietnam E-commerce Association and business associations to share information, raise awareness and knowledge about exporting through e-commerce and building the "Made in Vietnam" brand in the international market.
However, both businesses and experts said that many companies do not have a clear understanding of how to operate, complete online sales orders, or offer presentation skills online to attract customers.
According to experts, selling goods to international markets through e-markets such as Amazon, Ebay or Alibaba is suitable for Vietnamese SMEs, both retail and wholesale.
Hoang Viet
The Covid-19 pandemic has turned out to be a golden opportunity for e-commerce platforms as online shopping was the only alternative to obtain essentials during lockdown.
In the past year, nearly 7.2 million products of Vietnamese small and medium sized enterprises were sold to Amazon customers around the world (average 14 products per minute).