Tran Lam Nam Bao, born in 2004, who is a 12th grader at Nguyen Thi Minh Khai High School in HCM City, has posted his designs on his Facebook page and chat groups, attracting tens of thousands of likes, comments and shares.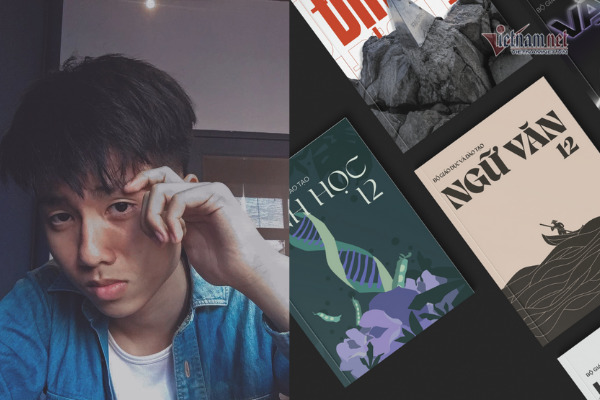 Bao has caused an online storm with his project of redesigning textbooks on physics, literature, history, chemistry, geography and biology.
"Neu nhu sach giao khoa duoc khoac mau ao moi' (If textbooks have new clothes) is a topic causing a stir among a group of over 500,000 members of different ages, from elderly people with interest in the educational sector to Gen Z students.
Bao said he uses various software to design the textbook covers, including Adobe Photoshop, Adobe Illustrator and Adobe InDesign, the popular design toolkit of Adobe, and uses many different colors.
The images used for the textbooks are drawn by Bao and inspired by many websites, including Behance and Pinterest. The student also refers to composition and image processing sources from the internet.
Bao decided to redesign the books because they were appealing to students.
"When I am in school, my head is filled of ideas about the ways to make learning easier for students. I want to make subjects no longer an abstract concept, but instead like a close friend that I can see, feel and imagine in my head," he said.
Among his works, the student feels most satisfied about his design for the biology textbook.
"The design is the most satisfactory in terms of aesthetics and information," he said.
"When designing the cover of the literature book, I was inspired by the work 'Nguoi lai do song Da' (The ferryman on Da River), and used the image to show the contrast between people and vast nature. I hope people will like the contrast," he said.
Bao said he used up all his free time during the 2022 Tet holiday to finish the project.
"It took me seven days to do it, one day for one book. I worked throughout the day, from the morning to evening. My eyes turned dry and red afterwards. But I'm luckily not sick," he said.
Bao said he began learning design when he was in secondary school.
"I learned to design with software on the internet and YouTube in the 9th grade and I taught myself design thinking, layout, and color on Behance. I also design Powerpoint work for presentations during lessons," he said.
Bao said he plans to study graphic design and wants to obtain a scholarship to go to an international university.
Doan Hung
After graduating from Wellesley College majoring in biochemistry, Trinh Mai Chi, with impressive research achievements, has won a full scholarship to study at Johns Hopkins, the world's leading medical university.