In some European countries, dragonfruit is considered 'super food', priced at VND650,000 per kilogram. Vietnam has 1.4 million tons of the fruit each year and farmers sell it at only VND3,000 per kilogram.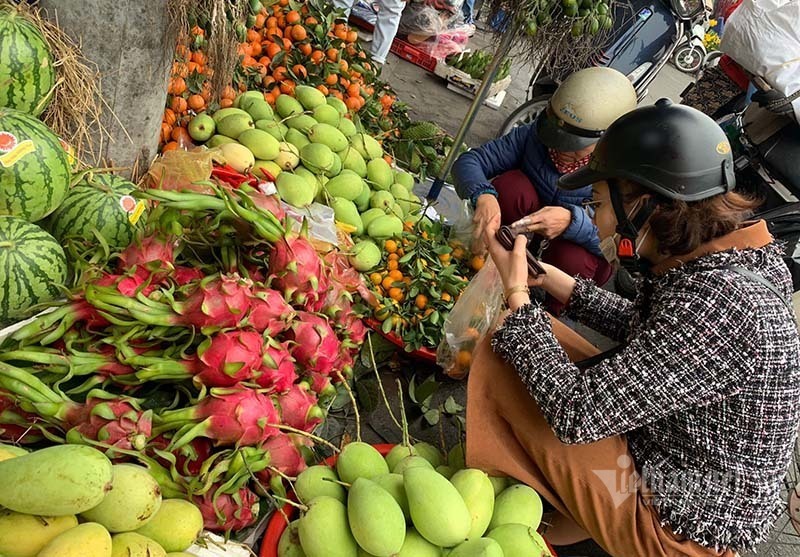 Nhu Nguyen, a representative of a company specializing in import and export between Vietnam and the Netherlands, said Asian farm produce, including Vietnam's dragonfruit, is considered 'super food' in Europe and the Netherlands.
According to Nguyen, it's not easy to buy dragonfruit in the Netherlands. At Asian-owned supermarkets in the country, a 400gr dragonfruit is priced at VND260,000, which means VND650,000 per kilogram.
Vietnam's dragonfruit is not only a favorite in Europe, but also in the US. According to MyPlate of the US Department of Agriculture, 100 grams of dragonfruit contain 60 calories, 1.2gram of protein, 0 grams of fat, 13 grams of carbs, 3 grams of fibre, 3 percent RDI of Vitamin, 4 percent RDI of iron, and 10 percent RDI of magnesium.
According to the Department of Crop Production under the Ministry of Agriculture and Rural Development (MARD), dragonfruit is the major crop in the provinces of Tien Giang, Binh Thuan and Long An, with total growing area of 64,000 hectares and output of 1.4 million tons a year.
Vietnam can earn nearly $1 billion a year from dragonfruit exports. In 2021, the export turnover was $998 million.
However, the news about dragonfruit recently is not about export turnover or farmer's prosperity, but about rescue campaigns. Because of oversupply, ministries have to call on domestic consumers to buy dragonfruit to help reduce farmers' losses and "rescue" them.
Bumper crops mean oversupply and farm produce cannot be sold. In some localities, farmers do not harvest the dragonfruit and leave it to rot in the fields.
2021 was another difficult year for farmers as dragonfruit exports to China got stuck several times. Every time China changed its policies, Vietnam's farm exports got stuck at border gates. As farm produce could not be exported to China, they were sold in the domestic market at low prices.
The farm produce deadlock at the border gates in Lang Son and Quang Ninh still exists and the dragonfruit price is still at bottom.
Quan, a dragonfruit grower in Long An, said farmers are selling dragon fruit at VND3,000-5,000 per kilogram, but sales are still difficult because of the deadlock in border areas.
In Binh Thuan, the dragonfruit prices are even lower, just VND1,000-2,000 per kilogram, causing losses. According to the Binh Thuan Dragon Association, the amount of dragon fruit stuck at the border gates and in cold storehouses has reached 30,000 tons, but the products need to be consumed within 15 days.
Le Thanh Tung, Deputy Director of the Department for Crop Production, confirmed that in the first months of the year, because of Covid-19, the dragonfruit price dropped sharply to VND2,000-3,000 per kilogram.
The dragonfruit output in large southern growing areas is expected to reach 247,000 tons in Q1, including 63,000 tons in March. Some households have suspended production to avoid risks.
In Hanoi, since late 2021, dragonfruit has been dirt cheap. Red and white flesh dragonfruit is selling at VND5,000-9,000 per kilogram.
Experts say that it's necessary to speed up the processing of fruits instead of only selling fresh fruits. High-quality dragonfruit can be sold as fresh fruits, while products with lower quality should be processed to create high added-value products such as dried dragonfruit, ice cream and liquor. Dragonfruit peel can also be used to create color for food.
The processing will help ease oversupply and bring bigger profits to farmers. Some cooperatives have succeeded in processing dragonfruit so as to ease reliance on the Chinese market. Diversifying products and diversifying export markets is a must.
Minister of Agriculture and Rural Development Le Minh Hoan, during his working visit to Binh Thuan, asked localities to reorganize dragonfruit production at the commune level, saying that it's necessary to understand market demand, and know each market, partner and competitor.
Farm exports experienced a tough year in 2021 due to congestion at border gates. Despite this, farm exports still could bring the turnover of $47 billion for the year. China was the second largest consumer of Vietnam's farm produce.
Tam An
Over the past few years, the export of farm produce to China has constantly been running into trouble, especially with the congestion of trucks at the northern border gates in December 2021.
Local agriculture officials are calling for higher contributions from overseas Vietnamese to the domestic economy.