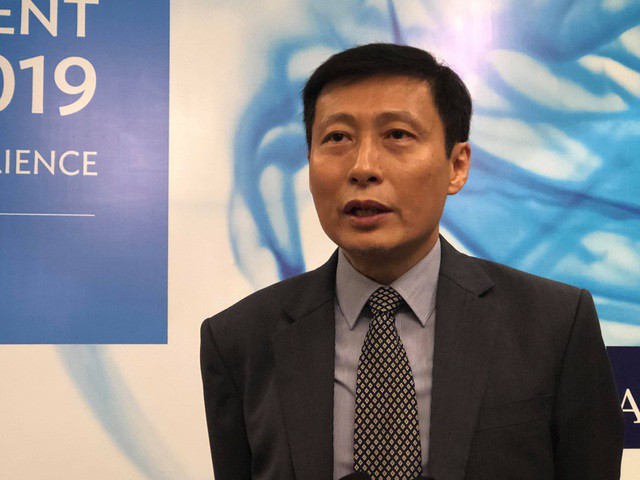 Nguyễn Minh Cường, ADB chief economist
Despite lowering the economic growth forecast of Asia, the Asian Development Bank (ADB) revised the Vietnamese GDP growth forecast from 6.8 per cent to 6.9 per cent for 2019 and from 6.7 per cent to 6.8 per cent for 2020.
Speaking to Vietnam News Agency, Nguyễn Minh Cường, principal country economist at the ADB, said there was a strong basis to believe in the Vietnamese economic development prospects in the short and medium term.
In the update of Asian Development Outlook 2019, the ADB downgraded Asia's economic growth forecast, but boosted Việt Nam's GDP growth forecast. On what basis did the ADB give such a promising prediction?
The ADB's forecast is relatively optimistic, based on the growth of domestic consumption, in addition to growth in export turnover and investment in the last 11 months, making trade growth hit a record US$11 billion.
Việt Nam's total trade turnover may reach $500 billion or more this year.
Besides, the ADB also looked at the dramatic improvement of the business environment in Việt Nam in recent years and found there is a tendency for foreign investors to gradually withdraw from China to seek other markets with less risks, especially in the context of US-China trade war, and Việt Nam is really an attractive destination.
Along with the business environment which has gradually improved, the improvement of Việt Nam's competitiveness is also very noticeable.
Therefore, it is easy to understand why the flow of foreign direct investment into Việt Nam has been soaring sharply.
Another important factor is Việt Nam's stable macroeconomic environment with low inflation due to the State Bank's appropriate and flexible monetary policies, which are good support for the growth.
The disbursement of public investment may still be slow, but there have been a number of breakthrough measures introduced by authorities to remove bottlenecks and accelerate the progress of public investment disbursement.
This could facilitate wider credit room for the economy.
That is why the ADB is very optimistic about Việt Nam's economic growth potential with a forecast of 6.9 per cent and the growth rate will be maintained in 2020.
Three important issues, which are business environment improvement, confidence of investors consolidation and foreign direct investment enhancement, are concerns of the Government, ministries, branches and localities, especially in the context of integration.
However, there is concern about the slowdown in the reform process. Is there any basis for this anxiety and any solution to this problem?
The reform process in Việt Nam has been carried out very effectively. Of course, some sectors should continue to take stronger measures such as State-owned enterprises reforms because the current pace of reform in this area has not met the expectations and goals set by the State.
Although the finance and banking sector has achieved many positive changes such as bad debt settlement and credit risk management under Basel II, the progress has been below expectations and there should be stronger measures, especially for handling bad debt.
It is also time for all bad debts that were transferred to the Việt Nam Asset Management Company (VAMC) in the past to return to banks.
It is expected that many debts will become bad debts like some Build-Operate-Transfer (BOT) projects which have not been implemented yet and other projects in the field of consumption.
However, there is little reason to be concerned about the reform process that Việt Nam is pursuing.
We all see that, besides internal factors, the driving force for reform in Việt Nam comes from other external factors.
Looking back, the country was under an embargo before 1986.
In 1996, Việt Nam normalised relations with the US and joined the ASEAN community in 1998 and immediately had to fulfill some mandatory commitments under the ASEAN Free Trade Agreement.
In 2000, Việt Nam signed a bilateral trade agreement with the US with many binding conditions, creating a strong incentive for reform in Việt Nam.
In 2007, Việt Nam joined the World Trade Organization (WTO).
In 2019-2020, external factors that will affect the reform process in Việt Nam are clear.
These include the Việt Nam's commitments when implementing the Comprehensive and Progressive Agreement for Trans-Pacific Partnership (CPTPP) and the Việt Nam – EU Free Trade Agreement (EVFTA).
The commitments under these two agreements are very deep and comprehensive in many sectors, creating conditions for opening markets, improving the business environment and promoting reform in many areas.
Therefore, I think momentum for reform will continue next year through the commitments of the two agreements.
It is clear Việt Nam's reform process is heavily dependent on its commitments with the international community through externally binding institutions and legal frameworks.
There have been previous comments from the ADB about six bottlenecks that hinder the private sector, which are business environment, physical infrastructure, level playing field with State-owned enterprises, management institutions, corporate capacity and environmental governance. What are the solutions to help promote the strong growth of this area and how does the Government play a role to create development momentum?
Normally, economic forecasts are only predictive of the development potential and they only talk about conditions to fulfill this potential. Similarly, when the ADB makes forecasts, it is only a forecast of growth potential, but the conditions for achieving and promoting this potential are a different matter.
The development of the private sector is related to a range of conditions such as institutions, business environment, competitiveness and infrastructure. However, to have a total solution to promote the growth of this region, I think the Government plays a very important role.
Accounting for more than 96 per cent of the total number of enterprises nationwide, the private sector is very diverse; among which there are business households accounting for a very large proportion and contributing about 30 per cent of national GDP; and also many small and medium-sized businesses and large private corporations.
Over the past decade, Vietnamese private corporations have grown tremendously. The problem here is how to ensure private corporations have strong breakthroughs for the Vietnamese economy while small and medium enterprises and household businesses continue to ensure broad and equitable development roles. This is the task the institutional and policy conditions must ensure.
In the current context, large private corporations are also concerned about ensuring their own competitiveness.
As you know, when integrating into the international economy, Việt Nam has signed many bilateral and multilateral free trade agreements, which means the country has to commit to implementing regulations to ensure a level and transparent playing field between domestic enterprises and foreign investors.
This means there will be no more special privileges or policies for domestic private businesses.
Therefore, more than ever, they need to identify their strengths and weaknesses and at the same time, take advantage of opportunities to become owners of the distribution chain and participate in the distribution network for Vietnamese goods to have a foothold in the global value chain.
As for small and medium-sized businesses, we need only look at current conditions and regulations to assume that access to credit and finance for this area is difficult.
In fact, when comparing regulations of collateral, feasible business plans and many other regulations of the banking and finance industry with countries in the region and globally, they are the same as all banks have to perform the task of preserving credit and limiting the risk of bad debts.
In my opinion, access to finance to motivate the development of small and medium-sized businesses is not a basic problem.
The important thing is how enterprises absorb finance. But this comes with the management ability, and skills and qualifications of workers, businesses. — VNS