Hà Nguyễn & Hồ Hoàng
Phú Yên Province in the central coastal region is well known for not only its beautiful beaches but also bò một nắng hai sương (beef jerky dried over wood charcoal).
Nguyễn Thị Hà, a local chef, said due to the climate of the province's Vân Hòa Plateau, local yellow cows, known as bò cỏ, can thrive.
"It is the main ingredient for us to make bò một nắng hai sương," she said.
Hà said the name expresses the beauty (nắng means sun and sương means dew) and how much hard work goes into making it.
The cows are raised naturally in large grass fields so they grow very well and their meat is fragrant and firm.
"We often use steers and only take their back thighs and fillet and cut all their veins out and then cut the beef into 10cm by 15cm pieces. These pieces should be soaked in minced garlic, dried onions, pepper and chilli for an hour before being dried over wood charcoal for two hours," she said.
Bò một nắng hai sương (beef dried over wood charchoal), a specialty of Phú Yên. — Photo phuocnguyetseafood.com
The drying process should ensure the beef is done to a turn but not so dried as thịt trâu gác bếp (buffalo meat hanging over wood fire) by the Thái ethnic group in Sơn La and Lai Châu provinces, she said.
"The cook should carefully take care of the drying process to ensure the outside of the beef is dried while its meat inside is still soft and sweet," Hà said.
The dish is much more enjoyable when dipped in muối kiến vàng (salt mixed with fried yellow ants) produced by the Ê Đê ethnic group in the Central Highlands, she said, adding that: "I have to order the special yellow ant salt from Đắk Lắk, one of the birthplaces of the ants."
Hà recalled a story in her career as a chef she had been taught how to make the dish from her grandmother who lived in the Vân Hòa Plateau some 50 years ago.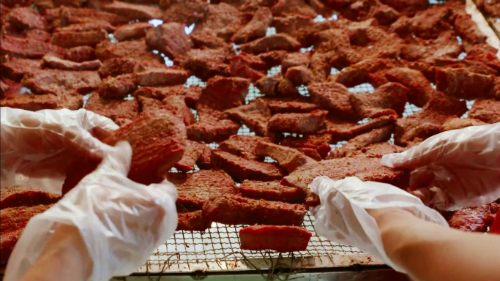 Drying the food under sunlight before packaging. — Photo ngoisao.net
"In the past when wild animals such as deer which were available in the forest, my grandmother made dried deer meat to sell. But since there are have been fewer deer, she turned to use beef in the plateau to make bò một nắng hai sương," Hà said, adding that her items sold very well not only in Phú Yên but also in HCM City and other southern provinces thanks to her fame and quality food.
"She always told us that we should not work for profit but have to keep our food, the speciality of Phú Yên, to be known nationwide," Hà said.
Former judge of Việt Nam's Master Chef Phạm Tuấn Hải said he had a chance to witness an Ê Đê woman making the salt.
The woman said the ant's eggs are most tasty and fatty during the fifth to eighth lunar months every year. After catching the ants, their eggs should be soaked in boiled water for a while then fried with salt and ớt kim (small chilli grown wildly in the forest). When these ingredients are done they are ground in a stone mortar to mix them together.
Kicker: Salt mixed with fried yellow ants, special sauce that makes bò một nắng hai sương more tasty and unforgetable. — Photo ngoisao.net
Hải said he was impressed by the special mixed salt's sour flavour and the buttery taste of the ants, the fieriness of chili and the wild fragrance of the citronella and lemon.
Apart from being used as a spicy dip for bò một nắng hai sương, the salt can be eaten with rice and boiled vegetables or mixed with young mango to make salad, said Hải, adding that his favourite was papaya salad with the salt.
"The dish is so popular that every Ê Đê people enjoys it," he said.
An Ê Đê woman named H' Rút from Đắk Lắk's Cuôr Đăng Village said local people often make the salad for parties such as death anniversaries or Tết holiday.
H'Rút said the ethnic group also likes to cook fish soup with yellow ants to cool down in the summer.
H'Rút said many of her neighbours have earned a lot of money thanks to the yellow ants. They can sell a fresh nest between VNĐ 80,000-100,000/kg and VNĐ 180,000-200,000/kg of pre-processed ants. VNS